Oh, yeah!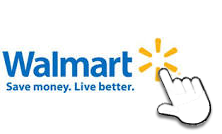 Not to be outdone by competitors in the war for the lowest prices, Walmart does price match online prices from competitors. Although some stores were already matching online prices, Walmart officially started matching online prices a couple of months ago during the holiday season. Now, most Walmart stores will match the prices of certain online retailers. If you live in Alaska, Hawaii and Puerto Rico, however, you're out of luck. Online price matching is not available for in store purchases in these areas.
Of course, just like the traditional price matching policy, the Walmart online price matching policy comes with a few terms and conditions you'll need to be aware of.
Walmart Will Price Match Only Certain Online Competitors
Walmart will price match online competitors, but not every online retailer is considered to be a competitor. Besides price matching their own website, Walmart.com, you can only request a Walmart price match from the following online retailers:
Online Merchandise That Walmart Will Walmart Price Match
If you're familiar with the traditional Walmart price match, you know that the retail giant is very specific about what items you can price match.
The item you're price matching must be identical in every way. This includes, but isn't limited to, size, model, quantity, brand, and color.
The item must be currently in-stock at your local Walmart as well as at the online retailer's website at the time the request for the price match is made.
Walmart may limit quantities to one item per customer, per day.
The following items do not qualify for price matching:
Items sold by marketplace and third-party sellers
Prices from auctions
Items that require bundles, instant rebates, or mail-in offers
Clearance, closeout, liquidation, or flash sale items
Damaged, used, open box, or refurbished items
Misprinted or inaccurate prices
You must request a price match on a specific product online as well. For instance, you can't request a price match on items with low prices due to coupon codes, BOGO sales, or similar discounts.
How to Price Match Online Prices at Walmart
To match online prices at Walmart, you can request a price match at a register or at the customer service desk. Take proof of the lowest price with you, such as a printout of the screen or pull up the product page on your mobile device. Even if you provide this proof, Walmart employees still have the right to verify the lower price.
Keep in mind, though, that your specific store's management team has the final say when it comes to matching online prices.
Have you tried price matching online competitors at Walmart yet?