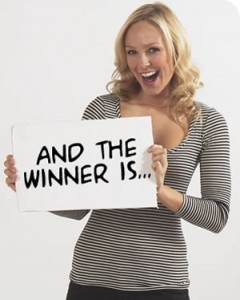 Here we go! Here are the winners of the Mani-Pedis I gave away for Mother's Day:
Teresa B. said: A Mani/Pedi is always a treat. However, for me being pregnant, I would spend the money on a prenatal massage. My preggo friend had one and she said they are amazing! Takes all the pregnancy aches and pains away and a relaxed happy mom makes a relaxed happy baby! LOL Thanks for this awesome giveaway treat! Happy Mother's Day Everyone!

Susan P. said: I would go for the mani-pedi!
Maggie Thompson: I'd get a mani/pedi AND my eyebrows done!!! what a great prize!
Karen Gee: I would get the mani-pedi!
Carah Kristel: I'd use half the money for a pedicure, that way I could spring for a friend to come with me.
I also gave away a stack of coupons offered by a reader on the CSWM Facebook page and the winner is Marcia S.
All winners have been emailed about their prizes.