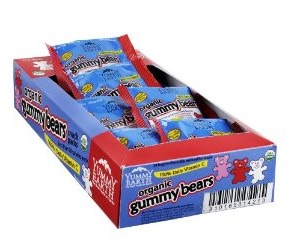 I just wanted to show you this deal on YummyEarth Organic Gummy Bears currently available on Amazon, just in case you are looking for organic treats to hand our to trick or treaters.  You can get YummyEarth Organic Gummy Bears, 0.9-Ounce Bags (Pack of 24)
for $10.62 after you order using subscribe and save. That makes each about 42¢. This offer beats the one on Annie's Homegrown Berry Patch Organic Bunny Fruit Snacks, 5-Count Pouches (Pack of 4)
for $10.34 or 52¢ each.
Last year I bought these YummyEarth Organic Lollipops, Assorted Flavors, 30-Ounce Container
(on sale now for$13.57) and even though my husband teased me about them, they were all gone. And I was happy with my choice. But this year I am getting some fun size M&M's and also some organic gummy bears.
Thanks, Organic Deals!