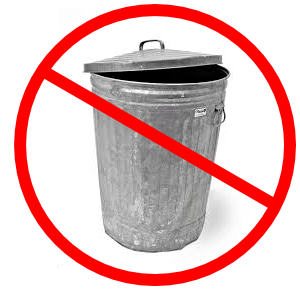 They say that one man's trash is another man's treasure. Before you go tossing your trash into the can all willy nilly-like ask yourself if there's something else that you can use it for and extend it's life. Not only will this cut down on the mountains of trash headed to the landfill everyday, but it can also save you a little money along the way.
Here are some common items that most household just throw away, and interesting ways to reuse them.
Plastic Grocery Bags
Plastic grocery bags are one of the things that environmentalists' nightmares are made of. It's estimated that they may take up to 1,000 years to degrade completely, and they're a common cause of fatalities among marine life. If you haven't made the switch to reusable shopping bags just yet, don't be so quick to toss those plastic grocery bags! You can reuse them for a number of things.
Aluminum Foil
If your aluminum foil isn't completely dirty after you use it, it may not need to go into the trash just yet. Pieces of aluminum foil can be wadded together and used as heavy duty scrubbers. We use aluminum foil balls to scrub the grill grates, and I've used them to scrub my super dirty cast iron cookware.
Squeezable Jelly Bottles
A dinner favorite in my house is pancakes, bacon, and eggs. To get almost perfectly round pancakes every time, I use an empty and clean squeezable plastic jelly bottle. Just pour pancake batter into the bottle and squeeze some onto the griddle. You can actually use any food-grade plastic squeeze bottle, like ketchup bottles and pancake syrup bottle, but the mouths of the squeezable jelly bottles are a little larger, which makes them easier to pour batter into.
Jars
Poor hubby gets so upset with me and my collection of old glass jars sometimes. But, when they come in handy for whatever reason, mum's the word from him! We use these for all sorts of things from storing leftover pasta sauce to making quick homemade pickles to storing small screws. You can even screw the lids to glass jars to the underside of a shelf, fill the jar with whatever, and screw the jar into the lid. This works great for holding different sized screws and nails in the workshop!
Cardboard Tubes
Toilet paper, paper towel, and gift wrap tube – I don't even know where to begin, since there are so many uses for these! I use them to keep leftover rolls of gift wrap neat, hold extension cords, start seeds, and store all of those old plastic grocery bags. You can also reuse them for crafts with the kids.
Old Clothes
Old clothes, including old socks, never get thrown out in my house. If they're still in good shape, they get shipped off to thrift stores or clothing drives. If they're less than acceptable, they're turned into rags or rag rugs. Some of our favorite t-shirts that we've outgrown or that have gotten old have even been turned into fun tote bags and pillowcases.
Toothbrushes
You can reuse old toothbrushes for a number of tasks as well. I use them to clean jewelry, scrub under my fingernails after gardening, and clean grout. I do soak old toothbrushes in a bleach solution before reusing them, however, to kill any stubborn germs left behind.
Mesh Onion Bags
I discovered not too long ago that those plastic mesh onion bags make excellent scrubbies for dirty dishes! Just wad up a few and scrub away. I also use them to store flower bulbs in the winter, as well as for harvesting and for storing onions and garlic.
Boxes
I can almost always find ways to reuse old boxes. Larger boxes are used to store seasonal items in the attic. Smaller boxes are used to keep cupboards and drawers organized. Lidded boxes, like shoe boxes, can be covered with pretty contact or wrapping paper and used for attractive storage out in the open.
Twist Ties
Those little plastic coated wire tags the keep bread bags closed are one of the handiest things around my house! I even keep a small bag filled with some twist ties in my purse. I've used twist ties for fixed broken flip-flops, mending glasses, fixing broken necklaces, reattaching buttons, and tying up garden plants.
What pieces of everyday kitchen trash do you reuse?
More Frugal Living Resources: