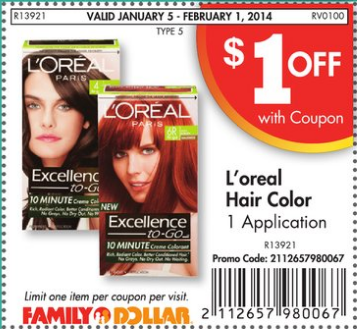 If you color your hair regularly, you can get a great deal at Family Dollar this month with a nice coupon stack. Pick up a Family Dollar flier on your way into the store. It contains a $1 off L'Oreal hair color coupon that you can stack with one of these coupons:
$2.00 off any L'Oreal Paris Preference Hair Color
$2.00 off L'Oreal Hair Color Product (1/5/14 RP insert)
Don't forge to enter the codes inside the box to earn your free box of hair color!