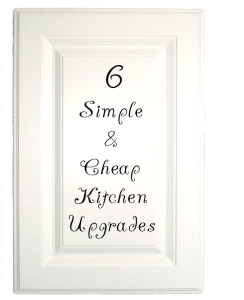 The kitchen is often one of the most lived in rooms in a home. Not only is it used to prepare daily meals, but it's also used as a gathering spot and the heart of the home. It's not a wonder that most people want a kitchen that's not only functional, but aesthetically pleasing as well.
However, as most homeowners already know, kitchen upgrades are usually quite expensive. In addition, many also require a professional's expertise or at least excellent DIY skills. Also, many kitchen upgrades are very involved and require the room to be disassembled and – for lack of a better word – trashed for some time, making it basically useless.
There are a few quick and cheap kitchen upgrades that you can do yourself, though. The following upgrades are simple enough for most people to do themselves, won't take forever to complete, and (best of all) won't break the bank!
1. Paint Your Kitchen
To me, this is the most obvious of all the quick and cheap kitchen upgrades that you can do yourself. For the complete transformation that it gives you, paint is relatively cheap as well as simple to apply. If you're on a shoestring budget, you can often find paint half off or more at most hardware stores; just ask where they keep the returns and mistakes.
2. Get "New" Kitchen Counters
Depending on how you do it, new kitchen counters can be cheap kitchen upgrades. To get new kitchen counters, you don't even have to buy or install new counters or counter tops – just paint it! You can't just use any paint to paint counter tops though, as typical latex paint will just scrape off in no time at all. You'll need special counter top paint, which is a little ore expensive, but way cheaper than all new counter tops.
3. Change Your Hardware
Of all the simple and cheap kitchen upgrades you can do, this is one of my favorites! It's amazing how changing something as simple as your hinges, handles, and knobs can transform the look of your kitchen. If you have several doors, keep an eye out for cheap hinges and other hardware. To make this more affordable, you can also purchase hardware for a few doors and drawers at a time.
4. Add Storage
When considering which cheap kitchen upgrades you want for your home, choosing one that gives you a little extra storage is always a good idea. After all, no home or kitchen can have too much storage. Instead of adding full sized cabinets, which is expensive, opt to add some open shelves. All you need is a couple shelving brackets and a board for each shelf.
5. Let There Be Light
Putting in extra lights is another one of my favorite cheap kitchen upgrades. You can add task lighting above sinks and stoves, and even under your cabinets. If you have electrical experience, you can try to install some inexpensive recessed or track lighting. If you have no electrical experience, you can still add task lighting to your kitchen. Just look for track lighting or other types of lighting that have power cords instead.
6. Dress Up Your Cupboards
There are lots of cheap kitchen upgrades you can do with your cupboards. For instance, you can brighten them up with a few coats of paint, or add a little visual interest with a few well placed stencils. If you have a small kitchen, you could also remove your top cupboard doors completely for some open shelving to display and store your dishes. Add some cute homemade curtains for a country look, if you don't like the idea of open shelving.
Do you have any simple and cheap kitchen upgrades to add?