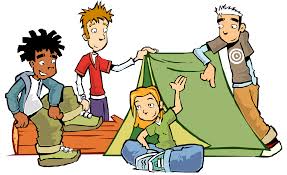 "Tell me what you did for your summer vacation? " Growing up I could always answer that question the same way my kids can now "We went camping lots of times."  Camping can be a very economical option for a family vacation.
Don't have an RV or lots of expensive camping gear? You can find tent campsites with electricity starting at under $20 per night in many National Parks and State Parks.
Here are some simple tips for tent camping on a budget.  Get started making camping memories with your family.  Actually taking your family camping is a great way to train them for emergency preparedness.
10 Tips for Tent Camping On A Budget
Find good deals on camping equipment by shopping at discount stores.   See if you a have an Army/Navy store in your area.  Buy plastic washable dishes at the dollar store
Yard sales are a good place to look for camping equipment as well.  This is especially true with tents.  We have seen lots of great tents for sale at yard sales.  Of course you can ask your friends or neighbors if they have a tent you can borrow.
Buy camping gear during the off season when it goes on sale.  During the Spring and Fall in our area stores tend to have great sales on camping gear.
Get out of the sporting goods department and find products that may be used for camping in other parts of the store.  Basic items you will need are a tent, a way to cook (could be as easy as just a campfire), sleep bags or blankets, and a cooler for your food.
Choose a campsite close to home to cut down on gas prices.  This is also a great way to familiarize yourself with the beauty of nature around you.
Do you want a few more amenities?  Check out KOA.  KOA campgrounds typically have improved bathroom and showers, some even have swimming pools and playgrounds.  Of course these amenities will cost a little more.
Buy essential equipment first and purchase other gear gradually as finances allow. Make sure you camp a few times and then decide if there is any other equipment that you might want
Plan for fun.  Pack up a few small toys, buckets, shovels, card games for kids.  I do not like Play-doh type things, but we do take it camping, it gives my kids something different to do.  Try to leave the electronics home!
Use a camping checklist so you don't forget anything and overspend for a replacement.  I like to pack things into tote boxes that can easily be organized.
Prepare a meal plan before your trip and bring your food with you.  This allows you to shop for the best deals and use coupons.  Hot dogs are cheap and kids love to cook them over the fire.  Search online for tin-foil dinner ideas.  Also, I like to prepare food at home like taco meat or sloppy joes and then freeze it and just heat it up at the campsite.
Tent camping can be a fun, inexpensive family vacation.  Use the same money saving principals you use at home when planning meals and activities.  Remember after you purchase your basic camping equipment, the cost of tent camping decreases substantially and you will have great equipment that can be used for years.
Get out, get dirty and build memories!