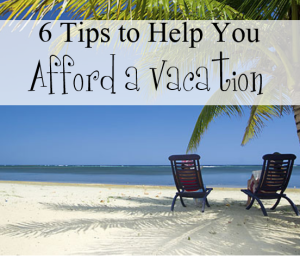 I've been toying with the idea of taking an actual vacation soon. It'll be my first vacation in over 10 years, and the second vacation of my life.
The only problem is, I – like many people – am not made of money, and I don't really have gobs of extra money to toss around as I please. Even so, I still need a vacation and I'm bound and determined to figure out how to afford a vacation for myself and my family.
It's not going to be easy, but I know I can do it. Here's my plan to be able to afford a vacation – a much needed one, at that – this year…
1. Start a Vacation Fund
I've already started a vacation fund at my bank. It's a completely separate savings account that's dedicated to nothing but saving money for a vacation. Every week, a small sum of money that I can afford will be deposited into this account. If you get paid via direct deposit, you can also opt to deposit a portion of your wages toward your own vacation fund. Most or all of unearned income, like this year's tax return and cash gifts, will also be deposited into this account.
2. Be Flexible
If you're trying to afford a vacation, try to be as flexible as possible. If you have your heart set on one destination, you might miss out on inexpensive vacation opportunities. Try browsing through different vacation destinations and packages. You might be able to find an awesome vacation package that's within your budget by being open-minded about your budget.
3. Consider Alternative Lodging Options
Staying in a hotel is the norm during most vacations, but that can get expensive for long vacations. Instead, explore some alternative to hotels for vacations, which are becoming quite popular. For instance, you might consider camping, working on a farm in exchange for food and lodging during your vacation, or even house sitting. Some websites to check out include WWOOF.org and MindMyHouse.com.
4. Shop Around Online
The Internet is a powerful tool when you're trying to figure out how to afford a vacation. You can often find amazing deals on hotels, flights, and even entire vacation packages online. Check sites like Expedia, Kayak, and Priceline. And, of course, don't forget to check daily deal sites like Groupon
and Living Social
, where you can often find hotels and getaways for well over half off.
5. Vacation During the Off-Season
Nearly all popular vacation destinations have an off-season, when fewer tourists flock there. To help you afford a vacation, you may want to consider visiting during the off-season or the shoulder season, which is right before or after the popular time to visit. Not only will you spend less money on travel and lodging, but there will also be fewer tourists to contend with. In some cases, it may seem like you have the entire place to yourselves.
6. Budget For Meals
Heading to restaurants for every meal of your vacation can get very expensive. Instead, try to prepare as many meals as you can on your own. This is easiest if you have access to a kitchen or kitchenette, but remember that not all meals require a stove or microwave. Think sandwiches and fresh salads, as well as rotisserie chicken and prepared salads from a grocery store deli. If you want to treat yourself to a meal or two out, consider purchasing discount restaurant gift certificates from websites like Restaurant.com
.
Do you have any tips to add for anyone trying to afford a vacation?