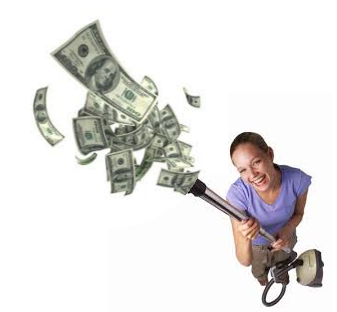 It's spring cleaning time! That means it's time to air out those stuffy homes and get to scrubbing.
I know, it's exciting, but that's no excuse to blow your budget on all sorts of fancy cleaning goodies. Here are a few tips to help you save on spring cleaning…
#1. Use what you have.
Spring cleaning is a time to start fresh and new. However, that doesn't mean you have to go out and buy all brand new cleaning solutions and supplies. Before you hit the stores, take stock of what you already have on hand and only buy what you need.
#2. Use coupons during sales.
This time of year, there are all sorts of sales on cleaning supplies. Fortunately, there are also lots of great coupons for cleaning supplies as well! Use a coupon during a sale to buy any spring cleaning supplies you need to get the most bang for your buck.
#3. Shop at the Dollar Tree.
It's no secret that I'm a big fan of the Dollar Tree. Everything there is only $1, including cleaning supplies. Oftentimes, the cleaning supplies you find at the Dollar Tree are just as good as the big name brands that cost three times as much. You can also find a nice variety of different types of spring cleaning supplies, including window cleaner, all-purpose cleaner, and carpet deodorizer.
#4. Make your own cleaning supplies.
A great way to save on spring cleaning supplies is to make your own. Ingredients for homemade cleaners are generally much less expensive than commercial cleaning supplies, and they last much longer. Check out some of my favorite homemade cleaner recipes for a few ideas.
#5. Ditch the paper towels.
Paper towels can eat up a huge portion of your spring cleaning budget. They're certainly handy, but they're also pretty expensive. Instead of spending money on something you'll be throwing away, invest in a pack of washcloths, which can be washed and reused over and over again. If you need to clean windows, try using newspapers, which work just as well as paper towels and still leave a streak-free shine.
#6. Share costs with a friend.
Splitting the costs of spring cleaning with a friend or neighbor is a great way to save money. This works especially well if you need to make larger purchases, such as a carpet shampooer. You can also split the cost of cleaning solutions (if you don't make your own) and bulk cases of paper towels (if you can't live without them).