A scary movie marathon is a just the thing to set the mood for Halloween! I, personally, love scary Halloween movies. I love any type of scary movie actually. My family, on the other hand? Not so much…
Hubby doesn't really get into scary movies much, and my kids are still a little too young to sit and watch some of the scary movies that I do. Around Halloween time, though, scary movies are a must!
So, I've been hunting around for some great Halloween movies that aren't TOO scary. That way, the kids can join in on the Halloween movie marathon festivities and still be able to sleep at night.
Here's a nice little list of Halloween movies that aren't too scary for most kids or adults who aren't into really spooky flicks.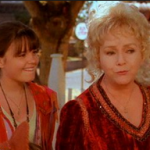 1. Halloweentown (G)
The Disney movie Halloweentown is definitely a Halloween movie for the kids. In fact, it's almost a whole marathon, since there's actually a series of four Halloweentown movies.
Marnie follows her grandmother into Halloweentown – a secret town in another realm filled with vampires, werewolves, witches, and other mythical creatures – to start her training as a witch. Throughout the movies, Marnie and her unusual band of new friends have adventures and battle evil forces in a town where it's always Halloween!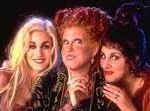 2. Hocus Pocus (PG)
One of my favorite Halloween movies! Even though it's not too scary, it's still a fun-filled adventure for the whole family! It's definitely one of the best family-friendly Halloween movies that's not too scary for the kids on this list, and it's entertaining enough for adults!
On Halloween night in Salem, Massachusetts, three witch sisters who have been accidentally resurrected from the dead after three centuries and hope to be made immortal before the night's end. It's up to three kids and an immortal cat to stop them.
3. Ernest Scared Stupid (PG)
If you're looking for a goofy slapstick Halloween movie, look no further than the antics of Jim Varney. This movie is more goofy and dumb than it is scary, and definitely one for the whole family to enjoy!
Ernest unleashes an evil – and ugly! – troll. Follow Ernest as he bumbles along trying to save the town.
4. The Others (PG-13)
Although not really a Halloween movie, The Others is still a spooky flick. If you like a good ghost story and creepy plot twists, I highly recommend this as one of your family-friendly Halloween movie picks!
A mother cares for her young children, who can't come in contact with sunlight, while waiting for her husband to return from World War II. Strange things start happening, though, when a group of servants comes to stay. This ghost story has all of the classic elements…or does it?
5. Practical Magic (PG-13)
Here's a little more witchy hocus pocus to kick off your Halloween! This is more of a romantic comedy, but it has enough spooky elements and magic to make for a good Halloween movie – without the extreme horror.
Two sisters who have been raised by kooky magical aunts both have the gift of magic. One sister embraces it while the other yearns for a normal life and family. Both sisters, though, get more than they bargained for when they try to bring back a boyfriend that was accidentally killed.
6. The Gate (PG-13)
This is one of the creepier movies on this list of family-friendly Halloween movies, but it shouldn't be too scary for most kids.
When Glen's parents go out of town, they leave him under the care of his mean older sister. Things start to get even worse, though, when Glen and his friend discover little demons in a hole in his backyard, which also just so happens to be a direct route to Hell. The kids must then battle the demons and close the gate to prevent a Hell on earth.
7. The Monster Squad (PG-13)
Here's a super cute family-friendly Halloween movie, if you can find it. It was one of my favorites as a kid, but I haven't seen it in the movie store for quite a while.
Dracula's plan to rule the world requires the help of other classic monsters, including Frankenstein's monster, the Mummy, and Wolfman. A group of kids know as the Monster Squad, die-hard classic monster fans, gets wind of the plans and plans to battle these classic forces of evil and save the world.
What are some of your favorite family-friendly Halloween movies that aren't too scary?
More Frugal Living Resources: