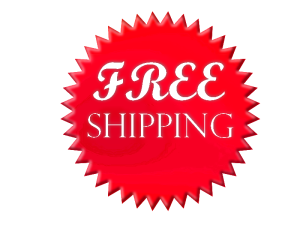 By shopping online, you can save a bundle of money! Sometimes, though, the shipping charges negate these savings, making your awesome deal…well, not so awesome anymore.
High shipping charges are the bane of even the most savvy online shopper's existence. Wouldn't it be great to get free shipping on everything you order? With these tips, you just might be able to pull this off…
1. Search For Coupons
Coupon codes are everywhere on the Internet. There are coupon codes for discounts, coupon codes for free gifts, and yes – coupon codes for free shipping. Before you complete your online transaction, do a quick search for free shipping coupon codes for the store you're buying. Many coupon and deals blogs – much like this one – also post coupon codes for discounts and free shipping. If you don't see the code you need, just ask! We might be able to hunt one down for you.
2. Hit the Minimum
Most websites these days offer free shipping if your order total is over a certain amount. If there's something else you need from a website, you might consider adding it to your cart to get free shipping. You can also add a small cheap filler item if you're only a dollar or two away from free shipping. Be careful with this method of getting free shipping, though! You could end up paying more by adding items for free shipping than it would have just to pay the shipping. Remember – it's not a good deal unless you're going to buy it anyway!
3. Join the Club
You can sometimes join clubs or loyalty programs and get free shipping on all of your orders. Some of these programs are free and some you have to pay for. You'll get free shipping on all of your orders if you're a Target REDcard holder, for instance, and you won't have to pay anything extra. On the other hand, Amazon Prime charges $79 per year for members to get free 2-day shipping on all of their orders. You have to decide if the cost of these types of memberships will pay for themselves in the long run. If you order online often, they might be worth it to get the free shipping.
4. Pick It Up Yourself
This isn't really free shipping, but it is a way to avoid shipping charges. Many online retailers that have brick and mortar stores will allow customers to pick up their orders at a store location for free. Although it requires a trip to the store, it's often a lot cheaper than paying for shipping charges.
5. Just Ask
Another way to possibly get free shipping is simply to ask. Open a chat window and ask an associate if they could waive the shipping charges for your order. If they can't give you free shipping, ask if there's another discount available that may make help cover the cost of shipping. This is a bit of a long shot, though, and it may or may not work.
6. Wait it Out
Online retailers lose a great deal of customers once they reach the checkout and see the final shipping cost. To entice customers who have abandoned their carts to come back, they'll often send out discount codes in emails. These are sometimes free shipping codes, but you might also get a code for a big enough discount to make the shipping charges worth it. You might also want to wait for national Free Shipping Day on December 18th. So, if at first you can't get free shipping, abandon your cart and wait.
Did I miss any ways to get free shipping?