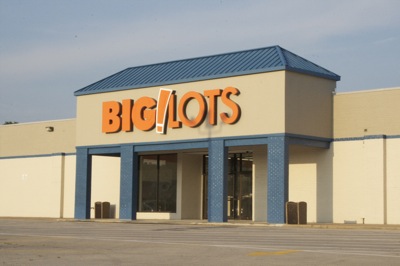 Big Lots is one of those stores I go to on a weekly basis, as I usually go grocery shopping once a week. However, you have to remember that Big Lots has a whole lot more than just groceries. There are a ton of money saving opportunities at Big Lots stores. For instance, you could sign up for their "Buzz Club" and you'll be notified whenever Big Lots is having a special 20% off day. These days are great, because you'll get 20% off your entire purchase.
Also, Big Lots has a clearance aisle which contains a decent bit of merchandise that has been marked down. From time to time you'll find some excellent deals in the clearance aisle. If you walk into a Big Lots you will usually notice that they have grocery carts near the front of the store with food in them. These grocery carts are filled with food that is going to expire soon, so the prices on this food have been significantly discounted. For instance, I've found boxes of Oreo cookies in these shopping carts for as low as 25 cents per box.
Below, I'm going to go over some items you should purchase at Big Lots. However, you should remember that Big Lots updates their inventory often, so you should stop in at least once per week to snag up the latest and greatest deals.
#1. Organic Groceries
Buying organic foods is not a cheap thing to do, especially when you're at big retailers. Big Lots doesn't have a huge selection on organic foods, but if you can find something you want, you should grab it up. It won't stay on the shelves very long and the price at Big Lots will practically be unbeatable.
#2. Painting Supplies
You're not going to find actual paint at Big Lots, but you'll find painting supplies at great prices. You should probably buy anything here you need, except for painter's tape. This is one item that you definitely get what you pay for, so get the best brand you can find.
#3. Briefs and Boxer Briefs
You will be able to find name brand briefs and boxer briefs at Big Lots and they will definitely be cheaper here than most other retailers.
#4. Socks
This is the same as above. You'll be able to find name brand socks, but at unbeatable prices.
#5. Outdoor Furniture
Big Lots doesn't get a ton of this stuff in and when they do it doesn't last long. The prices on outdoor furniture are Big Lots is much cheaper than other stores.
#6. Books
Big Lots doesn't have a huge book selection, but you'll usually find an area with some books at bargain prices. Some of them may be books you've never heard of before, but you'll find hidden gems a decent bit of the time, as well.
#7. Cooking Supplies
You can find stainless steel cooking supplies at Big Lots and you won't have to pay as much for them at Big Lots as you would at other stores. Also, Big Lots carried Pyrex containers at excellent prices.
#8. Movies
In most Big Lots stores you will find a selection of movies that are only $3.00 per DVD. I've even came across blu-ray films for as low as $3.00. So, if you want to have a family movie night, you should check out the DVD selection at Big Lots.