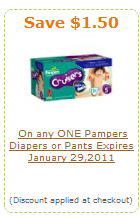 There is a nice deal on Pampers diapers on Amazon right now. You can pay $3.84 per jumbo pack or even lower if you have any 20% off coupon from baby Talk or Parenting Magazine or the sweet $10 off. This is a very low cost per pack, so follow these steps to get this deal:
1) Start by visiting this page and clipping this Amazon coupon good for $1.50 off Pampers diapers or pants. You may need to refresh the page a couple of times if you don't see the coupon at once.
2) After you have "clipped" this e-coupon, click to this page to shop Pampers Cruisers Dry Max or Pampers Baby Dry Diapers on Amazon and select the size you need. Combine 15% Subscribe & Save* discount with 15% Amazon Mom discount to get 30% off.
This should make your total around $28 and around $3.84 per jumbo pack. Now, if you have a 20% off Amazon coupon code or a $10 off coupon code or both!!? you are looking at a super sweet deal.  Oh! and let's not forget if you got the $20 Amazon gift card for just $10 available last week, the deal is even better.
Thanks Moms by Heart!