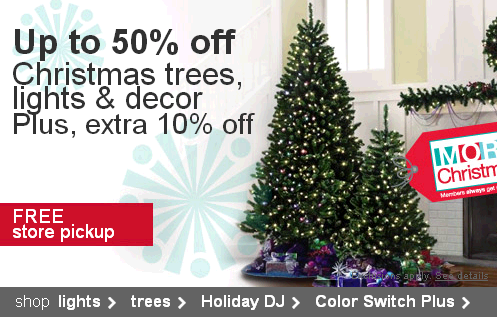 If you're looking for a new Christmas tree or some new holiday decor and lights, check out the deal going on at Kmart
 right now! Most of their trees, lights, ornaments and other decor is already marked down 30% to 50%. In addition, you can take an extra 10% off on top of that – twice!
Here's how it works. Just add the items you want to your cart, and an online Only extra 10% off Christmas Trees & Decor discount will be applied automatically. You can then enter the code KMART10PSAVINGS to get an additional 10% off your entire order! This deal ends tomorrow night, so you'd better hurry.
Happy holidays!
Don't forget to check out all of the Kmart deals, and stick around for more Cyber Monday deals.
Stop back and let us know if you got any really great deals too!