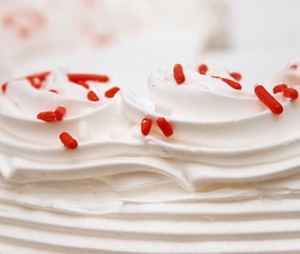 You can't have a birthday without a birthday cake! Store bought cakes can be pricey, though, and when you're shooting for a frugal birthday party, a fancy cake might not be in the budget.
So, what's the alternative? Making a cake yourself! Homemade birthday cakes are much less expensive, and they can be just as pretty as store bought cakes, if not prettier!
Intimidated by cake decorating? No worries! Even if you've never attempted cake decorating before, or you have with less than stellar results, we've got a few tips to help you create an edible masterpiece for your next frugal birthday party!
Start Early
Don't leave your cake baking and cake decorating until the morning of a birthday! You'll be in a rush to get it done and you're more likely to make mistakes. Trust me—it's just a recipe for disaster. Try to get your cake baked at least a day or two before the birthday party. It's also a good idea to take care of the majority of the cake decorating before the big day as well.
Use a Mix
There's no shame in using a cake mix to make a birthday cake! So, unless you already have a tried and true birthday cake recipe that you know works, just stick with the mix. It'll save you time and hassle. And, don't forget to follow the directions to a T for near perfect results, at least in the actual cake part.
Line the Pan
Lining the pan with parchment paper can make all the difference if you plan on removing the cake fr the actual cake decorating part. Rub a little oil on the inside of the pan, and line the bottom with parchment paper, leaving excess parchment paper flaps hanging out the edges. That way, you can just lift the entire cake out of the pan after running a butter knife around the edges.
K.I.S.S.
I know you want to pull off an amazing homemade birthday cake, but unless you're a professional, it's best to just keep it simple, sweetie! Don't make your cake decorating design too complicated, or you could end up with a mess on your hands. And possibly some tears. Been there, done that.
Add a Crumb Coat
To add a crumb coat, coat the entire cake with a very thin layer of frosting. A crumb coat is a crucial part of cake decorating. It helps trap any stray crumbs, so they won't get mixed in with the final layer of frosting. If you have problems with crumbs in your frosting, definitely try using a crumb coat!
Freeze the Cake
After your birthday cake cools and you've added a crumb coat, pop it into the freezer for about an hour before you start the actual cake decorating. This freezes the crumbs to the cake and makes the cake firmer and easier to frost.
Try a Buttercream Transfer
I recently discovered buttercream transfers for cake decorating, and they're amazing! Basically, you print or draw a mirror image of the design you want on your cake, place parchment paper over it, and trace the image with frosting. Cover it with a layer of frosting that matches your cake, freeze it, and transfer it to your cake. There's a great tutorial on how to do a frozen buttercream transfer on Cake Central.
Go Beyond Frosting
Cake decorating can include so much more than frosting! So, if you don't have a steady hand, think outside the frosting can. You can use all sorts of goodies to decorate a cake, including fondant, icing, chocolate chips, M&M's, chewy candies, licorice laces, cookies, and colored sugar.
Do you have any other cake decorating tips? Let us know in the comments below!