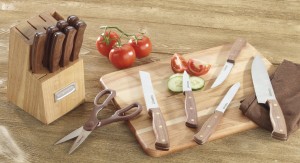 If you haven't figured it out yet, I got a new knife set! And I love it!
First let me say that I'm pretty finicky about my knives. They have to be sharp, heavy, and all around awesome! I've had a lot of knives and a lot of knife sets in my day, and none of them really suited me for some reason or another. They were too dull, they didn't "feel" right, they corroded, they were serrated—something was always just wrong!
I think Hubby finally got sick of me whining about my corroded Paula Deen knives that I picked up on clearance. I don't complain much, but GRR! So, my (early) Christmas present this year was the Cuisinart 14-Piece Triple Rivet Walnut Block Set. And it was probably my favorite!
Knowing how picky I am about my knives, he also let me pick them out, which was an extremely long process. I was searching for something very specific.
I wanted a wood handled full-tang knife set with non-serrated steak knives. The set also had to be around $50 or less. This is a little harder than it sounds.
I looked everywhere for a decent and affordable knife set—Kohl's, JCPenney, Amazon, and even Walmart. There was something not quite right about each set I looked at, and none had every feature I was looking for. Well, some did, but those were way out of the price range I had set for myself.
I finally ran across the Cuisinart 14-Piece Triple Rivet Walnut Block Set, which looked pretty promising, and made the purchase only after confirming that the steak knives were indeed non-serrated.
Cuisinart Advantage 14-Piece Triple Rivet Walnut Block Set: Pros and Cons
The handles are real wood on all of the knives, and they're attached to the blade with three metal rivets. These are also full-tang knives with wooden handles, which means that the metal from the blades of the knives extend through the handle of the knives. This feature just makes for stronger knives that are less likely to break and better balance.
The knives are pretty sharp, as are the shears. I could easily slice through a ripe tomato right out of the box and they're still sharp after almost daily use. I'm sure I'll have to sharpen them eventually, though.
The steak knives are also really sharp and heavy-duty. They can slice through a steak or pork chop like it's butter! I find that I use these for MUCH more than just steak knives too. They come in handy for slicing and chopping during meal prep.
There are only a few things I don't like about the  Cuisinart 14-Piece Triple Rivet Walnut Block Set, but they're not deal breakers by any means!
First, there's no slicer. I didn't notice this before ordering, but it's really no biggie. It comes with a big chef's knife, a small paring knife, and eight heavy duty steak knives, so I don't really miss the slicer much.
The bread knife is also a bit short. However, I hardly use bread knives in the kitchen.
Finally, the handles of the shears are plastic, but I expected this. However, I don't use kitchen shears and planned to remove them from the block anyway. They're still sharp and AWESOME for cutting wrapping paper, which I discovered when wrapping gifts this year.
Overall I LOVE the set, and I would definitely recommend it!
Caring for the Cuisinart Advantage 14-Piece Triple Rivet Walnut Block Set
A previous reviewer on Amazon mentioned that the handles of the knives she put in the dishwasher got rough and splintery. I never put any of my good knives in the dishwasher, so I can't confirm or deny this. However, it's no surprise to me at all, considering the handles are real wood. The handles look natural, and I don't believe there's any poly or shellac on them to keep the water out. Over time, I expect I may have to sand the handles with fine grit sandpaper periodically, but I'm good with that. I expect it with wood handled knives.
If you order this set, you'll probably need to care for them a little better than cheaper sets. They can't be left to soak or put in the dishwasher. The wood handles could swell and splinter and degrade over time. The blades are also carbon steel, so soaking or harsh chemicals can POSSIBLY corrode the blades a bit.
I also make sure I wash them with a mild detergent as soon as possible—preferably as soon as I'm done using them. If I get busy in the kitchen, though, I keep a large heavy glass next to the sink and pop the knives into that when I'm finished with them and wash them when I get a free moment.
So, here's a quick rundown on the  Cuisinart 14-Piece Triple Rivet Walnut Block Set…
Pros
Sharp
Affordable for a decent knife set
Wood-handled (May be a con for some of you)
Non-serrated steak knives
Full-tang with safety bolster
Cons
No slicer
Bread knife is shorter than I'm used to
Plastic handles on shears
Need a little extra care due to wood handles and carbon steel blades
More Frugal Living Resources: