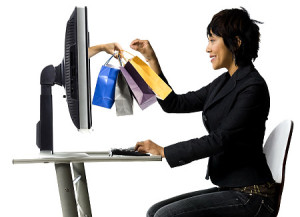 Think about everything in the past week that you've really wanted to buy on the spot while you were at a store. Chances are you'll be able to find the exact same item online. In other words, you don't even have to go out to the store anymore. Practically anything you could ever want can be accessed with just a few simple keystrokes. Retailers make buying items online easy, so I'm going to give you some tips that will help you save money whenever you decide to shop online.
#1. Pay Attention to Shipping Prices
Shipping prices is one of the first things I look at after I select an item. I want to know how much it's going to cost to have that item delivered right to my door. Typically, you'll find that retailers are willing to ship items completely free of charge. If not, you should check out different websites until you find the best price for the item you want and also figure out which site offers the lowest shipping charges. Depending on shipping charges, you may be better off purchasing the item in-store.
#2. Consider Amazon Prime
Amazon Prime is a yearly subscription offered by Amazon which will get you free 2-day shipping on everything you order from their website. Also, you get free access to their immense library of streaming movies. It's an excellent deal if you do a lot of shopping from Amazon, because the free shipping you'll receive is definitely worth it. The library of streaming movies is a huge bonus and will come in handy if you ever decide to ditch your cable television. Right now, Amazon Prime is only $75, but is going up to $99 tomorrow, so if you want Amazon Prime I highly suggest you get it right now.
#3. Use Coupons
Right now, you're on one of the biggest coupon websites on the Internet. We have a massive database of coupons for you to use anytime you want and I suggest that you use them. You can find coupons that offer discounts on items you're purchasing or you can find coupons that will enable you to get free shipping for items. Either way, I suggest taking advantage of coupons and discounts anytime it's possible.
#4. Sign up for Updates
Most retailers will allow you to become a member of their website. They will also offer you incentives to opt for receiving emails. Typically, these emails will contain members only discounts, coupons, etc… There are definitely some perks that are worth getting a bit of junk mail from time to time. Signing up for a membership or submitting your email only takes a few seconds and you can receive some excellent discounts, so I would suggest it.
#5. Take Advantage of Off-Season Sales
Online retailers work the same as brick and mortar retailers. When a season is about to go out, you'll find some amazing deals, because stores are trying to get rid of their stock to make room for new items that suit the season. For instance, right now, most stores are clearing out their winter clothing options and making room for summer clothes, bikinis, short sleeve shirts, etc…