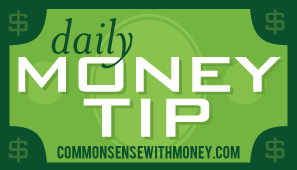 Love to get freebies in the mail?  If that is the case, investing a few minutes a day emailing manufacturers may result in freebies and high value coupons.
Have you found a product you love and can't stop raving about it?  Email the company about your love for that product and they may reward your loyalty with freebies and coupons.  If you recently have had a bad experience with a product, take the time to contact companies and share your experience.  In the past I have gotten good responses and received coupons for free products by doing this.
Tracie at Penny Pinchin Mom has a list of companies she has contacted and the result she got from the email she sent.  She also shares tips on how to send effective feedback. You can check out her list and use it as a reference point if you want to take the time to start doing this for freebies and coupons.
Have a topic you would like address in the Daily Money Tip? Send me an email with your burning question. Read previous Money Tips here.

Thank you for reading the Daily Money Tip: Money Management for the Time Deprived.