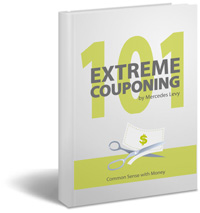 If you have come to Common Sense with Money looking for tips on how to save money using coupons, you have come to the right place! My name is Mercedes Levy and after years of reading, research, and coupon clipping, I've learned the secrets to saving thousands of dollars a year by using coupons. In that time, I've gained a huge amount of knowledge about getting the most out of using coupons. As a Couponing enthusiast, it is my goal to help everyone do the same, and I'd like to share my knowledge with you, FREE of charge.
Feel free to browse the links on this site for more information about using coupons, or sign up to get a FREE Extreme Couponing 101 Ebook.
In this Free Couponing 101 Ebook, You'll Learn:
From Coupon Clueless to Coupon Expert
Understanding Store Sales and the Power of Stockpiling
All About Coupons
Coupon Organization
Getting Started with Strategic Couponing
Advanced Couponing Strategies
Couponing at the Grocery Store
Couponing at the Drugstores
and Much, much more! Plus after you sign up for this free ebook, you will also start getting the deals to tell you where to get what for free delivered to your email inbox. No need to hunt the web trying to figure out where the best deal is.
Learn Everything You Need to Know About Using Coupons and Saving Thousands of Dollars!
Sign Up for Your Free Extreme Couponing 101 Ebook Now!

If you have any friends or family that have been asking you: "how do you use coupons", or "where can I learn how to do it." Please send them to this Webpage so they can get their own copy of this book.