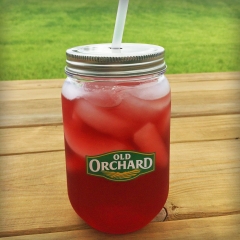 Get a FREE mason jar tumbler from Old Orchard! All you have to do is upload a picture of you and your family enjoying Old Orchard juice products. The photo must show an actual and easily identifiable Old Orchard product.
Don't have any Old Orchard products handy? Make sure you print this new coupon for $1.00 off two Old Orchard 64oz 100% Juice Blends! Better hurry, though, since this promo is available to the first 100 entrants!
Remember, You can usually get two prints from each coupon. To get a second print, just come back to this page and click on the coupons you want again. It'll save you some time and frustration searching, and each one will open in a new tab. If you can't or don't use all of your coupons, don't forget to pay it forward.