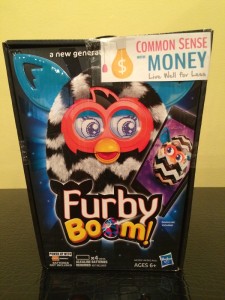 Yesterday, I told you about all of the cool toys from Hasbro that I'll be giving away before the holidays. Here's your first chance to win one of those very toys now – the ZigZag stripes Furby Boom!
Here are a few details about this prize:
Collect and hatch virtual Furblings to fill your city in the Furby Boom app, and try to get the golden Furblings egg
You can hatch and raise virtual Furblings with your Furby Boom, and play games together using the free Furby Boom app
Use the Furby Boom app to give your Furby Boom creature virtual food, checkups, showers and more
Furby Boom will remember the name you give it and the names of other Furby Boom friends it meets
Furby Boom has more than twice as many possible responses as the previous Furby, and how you treat Furby Boom will shape its personality
All you have to do to enter our free toy giveaway is comment on our Facebook post, and answer the following question:
What's your favorite Furby Boom color this year?
(You can see all of the different Furby Boom colors here.)
I'll pick a random winner exactly 24 hours from now and announce who it is on Monday before 3PM. Make sure you read our original post for rules and additional information, and don't forget to subscribe to our daily newsletter, so you won't miss the announcement if you win!
We will announce the winner that we choose from the Facebook post comments on this blog post so make sure to check back here to see if you won!