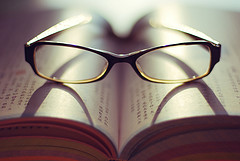 This past week I have read a lot of great posts by fellow bloggers and I would like to bring some to your attention:
Christina from Northern Cheapskate actually has a couple of posts I hope you have the time to check out. One of them is "Don't be Greedy with Freebies." Her tips apply to free sample offers as well as FREE deals. I would admit to have fallen into this trap when I first starting "doing the deals" but eventually gained perspective. She actually wrote this other post about "Sunk Costs and Garage Sales." I wish more people would consider this when pricing items for garage sales. Who cares how much you paid for something? what really matters is what others' think that item is worth now.
If you missed this great post by Crystal, "the" Money Saving Mom, about the Buy Ahead Principle, you need to stop by and check it out. It explains how buying items at rock bottom prices and stockpiling them for later use is one of the best ways to save a lot of money in your grocery budget.
Bargain Briana has started a new series to Debunk Coupon Myths and she first tackles a big one "No Coupons for Products I Use." I really get a chuckle when I hear that one. Really? you don't use toilet paper, shampoo or toothpaste everyday? WOW!
Still concerned about how there are no coupons for the organic foods your family consumes? check out this entry by Shannon at For The Mommas on the different strategies you can use to Buy Organic on a Budget.
Carrie over at Money Saving Methods has the scoop on how you (or in this case with the help of the men in your life) you can make $125 by taking part of a focus group.
Want to have a good chuckle? Check out this call for help from Meredith at Like Merchant Ships. A picture (or doodle in this case) says it better than one thousand words. I think we can all relate to the overwhelming feeling.
Enjoy!