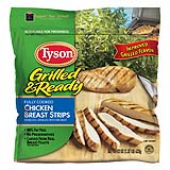 My family has been long time fans of Tyson's fun shaped chicken nuggets. Well, my two boys I should say. This is the reason I didn't hesitate to say yes to the opportunity to sample Tyson's new Grilled and Ready Chicken. Plus I know some of you guys are fans of Tyson products as well.
Tyson's Grilled and Ready Chicken provides families a convenient way to put dinner on the table fast. After buying a couple of bags of this new product at my local Super Walmart, I didn't have to think very hard to find ways to use it. Sure my kids were OK just eating them plain. But for my husband and myself the first thing I did was chopped some of the strips and turn them into chicken quesadillas. I served this with come Wholly Guacamole I got really cheap after coupon and some chips and salsa. Then a few days later I pulled my Ken's reamy Caesar Dressing and made a fab chicken Caesar salad for lunch.
Putting dinner together with Tyson's Grilled and Ready chicken was really fast. It does come at a price though. I paid $6.99 for a bag at the Super Walmart I shopped. That's the price you pay for convenience. Personally I would keep a bag in the freezer for emergencies because $6.99 would beat the cost of take out anytime. Plus for those nights when the kids are really hungry, this gets dinner on the table faster than anything else. I would have to say the only thing I was not thrilled about in this product is the level of sodium in it. But I guess since I won't be eating it everyday it's OK.
Win it!
Tyson has graciously offered to give ten of my readers to give Tyson Grilled and Ready Chicken a try for FREE. I have ten coupons for a bag of this product to giveaway. There will be ten winners in this giveaway and each winner will get one coupon towards a free bag of this product.
This is what you have to do to enter this giveaway:
1) Leave me a comment on this post, telling me how you would be serving this chicken for a meal.
If you are reading this entry via email updates or via RSS reader please CLICK HERE to visit my blog to enter. Emailing me is not a valid entry for this giveaway. This giveaway is open to residents of the United States only. Please enter only if you are 18 years or older. This giveaway ends on 5/25 at 9PM CST. At that time I will close the giveaway and select Ten winners randomly.