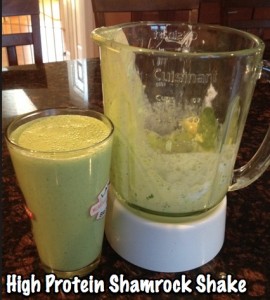 I got the idea for this High Protein Shamrock Shake Recipe as I was driving past McDonald's.  Even though Shamrock shakes are available at every McDonald's this year I won't be indulging in any.  So, how I got to think about how I could make my own healthier green shake.
Original DIY Shamrock Shake Recipe:  (350 calories, 9.6 grams of protein)
2 cups vanilla ice cream or 2 cups soy ice cream
1 ¼ cups 2% low-fat milk or 1 ¼ cups soymilk
¼ teaspoon mint extract
8 drops green food coloring
My Own Healthier Recipe (Calories 430, 49 grams of protein*)
1 cup organic greek yogurt (23 grams of Protein *)
1 Scoop Vanilla Ice cream flavored whey protein another (22 grams of protein*)
1/2 cup of milk (4 grams of protein)
2 packets of Truvia
1 cup of fresh Spinach
To make it, just blend it all in the blender.  You can add crushed ice if you want a thicker consistency.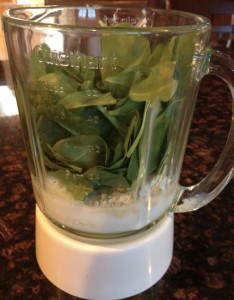 So, I will admit that my shake did not taste like vanilla ice cream.  More like vanilla yogurt smoothie.  But it was a nice variation from my regular protein shakes and it was a nice way to sneak in a lot of spinach in my diet.
Variations: You can try just adding one cup of whey powder to the recipe using two cups of ice cream.  That will add some extra protein.  Or do one cup of ice cream and one cup of greek yogurt for another variation.
* Nutritional values estimated based on labels from products I used on my recipe.