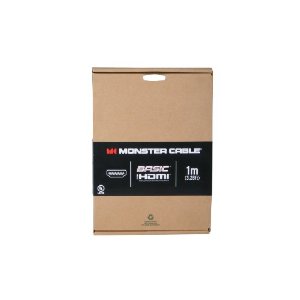 Got any TVs, DVD or Blu Ray Players under the tree this year?  Well, chances are pretty good you need an HDMI cable to go with your purchase.  Don't spoil the thrill of the gift by realizing as the gift is being opened that you are missing it.  You didn't know this but your local Walmart or Radio Shack carry the Monster Cable Basic HDMI cables that should satisfy your needs.
Here is something you don't want to do though:  Get your cables from less than reputable places.  Seriously,a cable is not a cable and you can get ripped off by buying counterfeit cable.  Here are some tips, courtesy of Monster Cable, on how to avoid counterfeits:
1.       Avoid Market Places, Auctions and Classifieds
Most counterfeiters are looking to make a quick move and jump on to the next product or place. Nothing is easier than setting up an auction, putting a product on a marketplace for a major retailer or running a classified ad and unfortunately since major sites like eBay and Craigslist don't see the products people post on their site, they can't verify if they are real or fake. Our advice is to always avoid these sites when you're shopping from an online store, even a big one.  Make sure to check that your purchase comes straight from the retailer (i.e. Amazon.com) and not someone selling through the website marketplace.
2.      Our Factories Don't Sell Direct
One of the biggest stories counterfeiters use when customers ask about their great prices is that the products they sell come directly from the factory with no middleman. The truth is that the only way to get a product from a major brand's factories directly is to steal it, and even that's a very rare occurrence these days. Generally when someone says they got it direct what they really should be telling you is that they got it direct from the factory selling fakes.   Another sign that a seller is selling fakes is when they offer you support or a warranty.  It is important to remember that authorized dealers don't offer manufacturer support or warranties.
3.       Look for typos, grammatical errors, poor photos and "Special Edition" products
Often the best way to tell something is wrong is simply by looking at the product descriptions and images. If you notice typos, poor quality or inconsistent photos or even confusing messaging like a headphone advertised on a cable page, there's a good chance it comes from a counterfeit or unauthorized seller located outside your area.  Similarly, websites that look like they were quickly put together or have lots of broken pages are a big red flag.  If you see "Special Edition" products or products that aren't listed on the manufacturer's official website – they are more than likely fakes.
4.       Double check the URL of any website from which you are considering a purchase
These days counterfeiters aren't just copying products; they copy entire websites and use names that may be just a letter or two different from the real thing. Be sure that you have double-checked the URL of the page you're viewing and that everything looks to be in order. Monster maintains a full list of authorized websites on our site but we also have a blacklist of sites to avoid, be sure to review both to be sure where you're buying from is legit.
5.       If it seems too good to be true, ask the makers

Everyone wants a great deal, but when you see a product for 50, 60 or 70%-off on a website, step back, take a second look and proceed with caution. Counterfeit sellers lure customers in with unbelievable offers that get you to jump before the deal "runs out". They're counting on you to be so excited that you set reason aside. Don't fall for it; a simple check of our authorized dealer list is often enough to know if the site is legitimate or not. If you're still stuck just drop us a note and ask on Facebook, Email or our Blog.
Those are great tips for making sure you get the best quality your money can buy.
Here are a couple of gift ideas you may want to consider.   First, if you are buying any devices with a screen (and that includes TVs or smartphones) you want to check out this ScreenClean product.  Monster Cable sent me a set of this and I am so thankful!  My kids leave my phone filthy when they are done playing with it.  It is disgusting!  It was so nice to clean the screen properly again.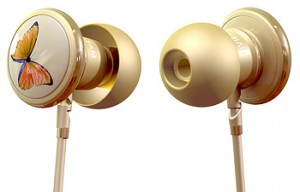 Finally, if you are wondering what to get to the woman in your life who has it all or maybe you just really want tog o that extra mile.  Check out these Monster® Butterfly™ by Vivienne Tam with ControlTalk™ High Performance In-Ear Headphones. They are gorgeous!  But they sure are spendy!  But they are the top of the crop: comfortable fit and high quality sound.
Win It!!
One lucky CSwM reader will win both the Monster Cable HDMI Cable and the Monster ScreenClean Kit.
Here is how to enter:
1. Leave a comment.
For additional entries:
Follow me on twitter and tweet the following (copy/paste): Stop by commonsensewithmoney.com for a chance to win a Monster Cable Prize Pack . Go here to enter https://bit.ly/i5VEZj #wingiveaways
If you are reading this entry on your RSS reader or email newsletter make sure to CLICK HERE to enter this giveaway. Emailing me is not a valid way to enter this giveaway. This giveaway is open to residents of the US 18 years and older. This giveaway ends 12/13 at 3PM EST
For more chances to win, enter this giveaway at these other blogs:
This giveaway was sponsored by Monster Cable as part of Win Giveaways Holiday Bash. This Post was written by me and was not edited by the sponsor. Read more on my disclosure policy. Find more information on the terms for this giveaway on the Win Giveaways Facebook page.