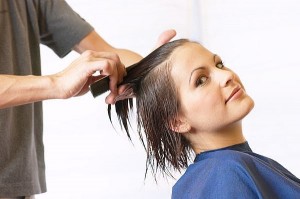 This is a guest post by Julia Scott, who shares strategies to save on everyday expenses like back to school clothes at BargainBabe.com. If you like her post, sign up for her email list.
My hair is completely wild, out-of-control, and never obeys, but paying to tame it is an expense I loathe. What's the purpose of spending money on a cut, color, or style when I can grab a hair tie, whip my hair into a ponytail and be done with it? When I can't stand the rebellion any longer, I put my hair into its place with these 12 tricks for getting professional help on a budget.
Host a hair cutting party. Invite over friends who also want to get their hair cut and negotiate a discounted rate ahead of time based on volume. You may be able to get 20% off or more per person, especially if you can pay in cash. Best to work with a stylist you or one of your girlfriends already knows.
Look for first timer specials. Many salons offer newbie discounts that really pay off. One salon near me charged $20 for a cut or style that normally starts at $60. These deals rarely include a wash and blow dry, and you still need to tip.
Turn to the almost-professionals. Yes, folks, I'm talking about students. Beauty schools across the country offer low-cost cuts that are often less than $15. Students lack experience, but they are eager to please. After all, you are a potential client once they graduate and get a job. Why not consider a student for a basic cut, simple color, or easy style? You can test them out without great risk. When you want to make a dramatic change, go to a student you have experience with or a veteran.
Get to know the salon owner. They may be more likely to extend a discount, free sample, or extra service to a friendly and loyal customer. Be sure to ask if they have any promotions coming up.
Find high-end salons that offer classes for professionals who want to learn a new skill. Sign up to  be a "hair model," which is free or a fraction of the cost these folks would normally charge. I have gotten many fabulous cuts for $10-$20 through the hair model program at Bumble & Bumble in NYC. The downside is that each cut took two hours (every snip had to be approved by an instructor) and the appointments were on weekday afternoons.
Ask friends for a low-budget recommendation. You may have to pry the info out of them if the stylist is especially good and cheap. One of my most frugal friends confessed her stylist worked wonders on her hair for $20.
Skip the wash and blow dry. Unless you are going to a party or event, style your own hair to save a few bucks.
Pay in cash. Ask the person who books appointments or the stylish his/herself if there is a discount for paying in cash. You may have better luck if you've patronized the salon in the past.
Use a coupon. Bulk discount sites like Groupon, Tippr, SocialBuy, and FreshGuide have offered steep discounts on coloring and styling services in the past. I'm talking 50-90% off, which is hard to beat. Sign up for the site's email list, monitor for salon deals, and by golly read the fine print.
Refer friends. If you have connections (think Facebook and Twitter), refer new clients liberally and make sure the stylist knows where their new stream of customers is coming from. It is impolite to expect a discount for referring friends, so be subtle.
Book during down times. A salon or stylist may be more open to negotiating a deal with you if they would otherwise be idle.
Do it yourself. Consider trying snipping your own locks if you want a simple cut or are extremely adventurous. If you mess it up, there is always Supercuts. Search for tutorials online or at the library. Use sharp scissors and work slowly. An alternative is to have a trusted and steady-handed friend cut your hair.
Mercedes here:  how do you save on your hair coloring, styling and more?  got any additional tips you would like to contribute?  Make sure to leave a comment.