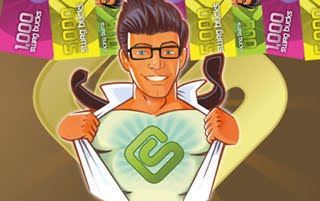 Time to rev up your search engines! It's Friday which means it's Mega Swag Bucks Day. If you are using SwagBucks as your search and win engine today you have increased chances of winning our Mega Swag Bucks denominations (100, 200, 500, 1000).
If you are not using Swagbucks it is always a great time to start doing so. Swagbucks is a search engine that randomly rewards you with Swag bucks every time you use it. The more you use it the more chances you have to win these Swag bucks. Accumulate these bucks to get free stuff. For example, one $5 Amazon Gift card is worth 450 swag bucks.
Get 90 swag bucks just for signing up. Use the code SBISONTHEGO when you sign up to add an additional 60 free swagbucks to the usual 30 you get at sign up.  Swag Code is valid until Friday, August 3rd at 11:59 p.m. PT.