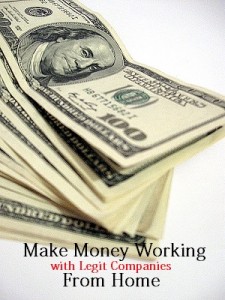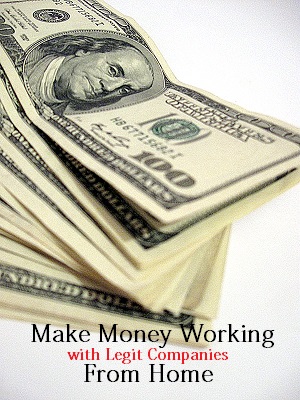 We all want to make money and work from home, but, how do you know what companies are legit? There are several companies that allow you to make money working from home, in addition to survey companies that we all have come to love.
First, start with Swagbucks.com. While this isn't going to get your rich over night it will pay you to do your working from home research. In short, the website is a search engine that rewards you for doing online searches just as you would on Google, Yahoo!, Bing, etc.. The only difference with Swag Bucks is that y are rewarded for doing these searches. Over time your  Swag Bucks will begin to add up. Once you have enough Swag Bucks you can then redeem these bucks for prizes or gift cards to Amazon.com or simply a PayPal deposit!
In the instance you enjoy taking online surveys there are plenty of reputable companies that will pay you to take these surveys from the comfort of your own home. A few of my favorite sites are Opinion Outpost, MyPoints, Ipsos and Pinecone Research.
Do you enjoy doing research? If so, you'll LOVE Chacha! The process is a bit lengthy to get accepted, but, once you are in, you'll be addicted! Basically, you are a "guide" answering questions that folks are searching for. Not only is it a great learning experience, but, you are making money as well! Now you aren't going to get rich with this site either, however, you can make a decent monthly paycheck if you put your hours in.
Maybe selling items online is your thing. Not only can you list items online that you have laying around your house, but, ask friends and family if they have items that they'd like for you to list on sites like Craigslist and Ebay.com. Create a "Listing Fee" that you will charge for each item and ensure your customers know what that fee is ahead of time. To keep things organized you can create a separate spreadsheet listing the items of each customer that includes list price, sold price and your fee and use as a receipt!
If you enjoy rehabbing flea market finds consider purchasing items that you can make beautiful and sell for a profit. When purchasing these ugly items keep in mind how much you'll have in material and your time when factoring in your final sale price. You can then list for sale on a free Facebook Page that you create, Etsy, Craigslist or at a local Flea Market!
Speaking of Etsy, if you create a unique product go on and open up a Etsy site. You'll be surprised at how fast you'll watch the dough roll in (if your items are priced well!). If you are really looking forward to getting an Etsy site up and running, have a low overhead and don't mind giving a few items away connect with local bloggers to host a Product Review and Giveaway. But, be sure to have all your ducks in a row – enough product, Facebook Fan Page, shipping boxes, etc. before doing so!
If being a Virtual Assistant (VA) is up your alley I recommend applying with ContemporaryVa.com. You will be expected to take a test and if you are accepted can begin accepting VA jobs. The work comes in slow at first, but, once you are a proven member of the community you will be offered a lot more gigs. So it's best to find your patience with this site and do your best!
Are you passionate about a certain topic? If so, create a free website on Blogger! When you share your expertise with the world, they will come to you…especially, if it's on a controversial or hot topic. If you have doubts if your website is going to take off starting your site on Blogger is a great option because there are no upfront fees. You can begin making a few bucks by getting your website affiliated with Amazon, Google Adsense, CJ.com, MySavings and several others. Again, blogging isn't an overnight success and it takes A LOT of your time…so be prepared!
Right now another big thing that is hot is photography. If you have an eye and a camera offer up your services to your friends and family. Begin creating a portfolio and uploading your favorite images to a website. Again, Blogger is great, however, you may want to invest in a self hosted website for this to optimize the speed and insert a E-Commerce Cart for your customers to order additional prints, book a session, etc. You may even offer up a Mini Shoot that allows several families to come to you on one day for 30 minutes for $50 just to get your name out there!
Whatever work from home job gig decide to do have fun with it. This isn't your full time job and should be enjoyable for you to do. You never know, this may turn into your dream job and make you a income that will allow you to leave your current day job.