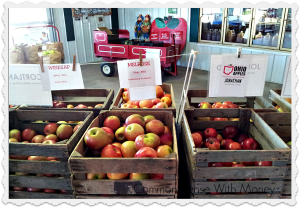 Happy Fall!  There are many things that my family loves about the Fall…the weather, the camping, the leaves, the smells and Pink Applesauce!  Pink Applesauce is something my husband has enjoyed since childhood when his paternal grandmother slaved over a hot stove doing every step by hand and sharing with her family.
It seems these days is just so much easier to buy things like applesauce especially when we pay less than a dollar using our coupons!  Doesn't it taste just as good?  Well depending on who you are talking to you'll get different answers and if you're talking to anyone in my household the answer would be a defiant NO!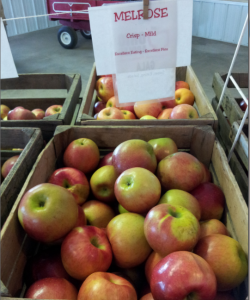 Therefore, each year we make the pilgrimage to our local orchard.  In Northwest Ohio we have a fabulous selection of Apples and therefore have a variety to choose from. Depending on what kind of apple you prefer go ahead and use.  My family prefers using Melrose for a cost and for texture.  It has a sweetness without being overdone and stays crisp.  You don't want apples that turn mealy.   So each year we try to head over and pick our own and share a hayride.
A couple of weeks before we go I normally call up to order my apples for my annual batch of applesauce.  I do this because to make applesauce you don't need the higher priced apples you see on the orchard floor, no you need what they call seconds (2nds).  These are the apples that have slight imperfections on their skins, too big, too little, etc for the general public.  In this case for sure Beauty is ONLY skin deep so next time you're looking for apples to use in baking or cooking be sure to ask your local orchard for seconds!  These apples are just as good at a fraction of the cost!  I paid $8 bucks for a half bushel and they were terrific.

Now that you have your apples purchased, picked or gathered be sure to wash them thoroughly.  Pull out the following items you'll need to pull your recipe together:
4 Large Apples (any kind you want, I used Melrose)
2 – 3 Tablespoons of Cinnamon Imperials
2 Tablespoons (up to 1/2 c) White Sugar
2 Shakes (up to 1/4 c) of Ground Cinnamon
1 – 2 Cups of Water (do not cover apples, just about half way up)
1/4  cup of Apple Cider (Optional)
TIP: Now depending on the sweetness of your apples you may not even have to add the white sugar.  I did this time but last year I only added the Cinnamon Imperials and it was fine so always taste test before you add each ingredient.  My apples were exceptionally large this year so I had to add a bit more water and a splash of apple cider but you only want it to go up about halfway, not covering.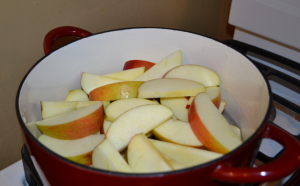 Now here is where there a couple of different options come into play.  You can either use your nifty Apple Peeler Corer and quarter the apples or if you're like me and would rather not have to peel or worry about any of that you can simply quarter your apples cutting out the seeds at the same time. Put the apples in a heavy bottom pot, add water and turn the heat on Medium.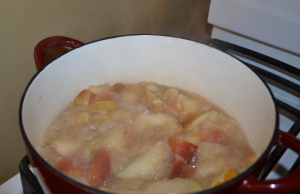 Heat apples and water to a boil over medium heat , uncovered.  This can take up to 20 minutes depending on your stove top.  Once you're boiling, reduce heat to low and simmer uncovered stirring occasionally to break up apples until tender, about 10-15 minutes.  Once your apples are tender you'll notice the skins coming loose and apples are tender.  Turn off the heat.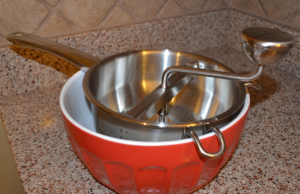 Once your apples are tender you'll need to remove the skins from the apples and create your sauce.  This is where my favorite kitchen tool comes into play….the Food Mill!  I absolutely love this piece of equipment.  I use it in soups, mashed potatoes and of course Applesauce!  I simply put my Food Mill that my sister gifted me from Zulily last year on a deep bowl to capture my yummy applesauce.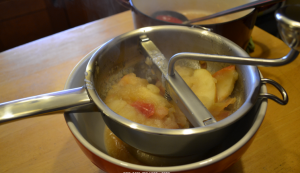 Scoop the entire apple mash into your Food Mill and start churning out your applesauce.  Don't forget to pick up the food mill and scrape all the yummy goodness off the bottom.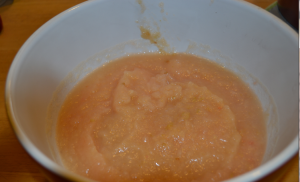 You should end up with the consistency of well…applesauce!  You can tell my applesauce is already tinted a bit by cooking the apples with the skins on.  If you opted to remove the skins your coloring may be slightly different.

Return the sauce to the pan you cooked the apples in and put on medium low heat.   Add the balance of the ingredients listed above.  I highly recommend tasting your sauce after you add the Cinnamon Imperials, a lot of times that is enough and I totally skip the sugar and ground cinnamon.  Doesn't it just look prettier in pink? 😉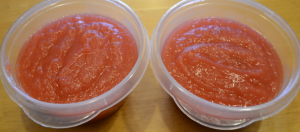 Once you have thoroughly incorporated your ingredients stirring constantly then remove from heat and add to the container of your chose!  This year I just ended up picking up some inexpensive freezer safe plastic tubs (freezer bags work too) but last year I canned my applesauce using  the water bath method.  I think it tastes the same either way so preserve your applesauce either way you like!  I let mine cool to room temperature, add the lid with the date on it and set in the freezer until needed!
Sometimes I like to pick up cute little jars and give as gifts or use as baby food when my boys were young.  Enjoy!
 This recipe and Photos are from my trusty sidekick Kara!  She is a wife and mother to two school aged boys who lives in Northwest Ohio.  She loves a good bargain and enjoys cooking and baking for her family and others. She is a frugal mother who actually lives on a budget and yearns for the years long ago when things were really homemade!  In her spare time she helps me out here on Common Sense With Money.  She helps you find more for less.
If you have a homemade recipes and photos to share be sure to email us and we'll feature your recipe and photos right here on the blog!