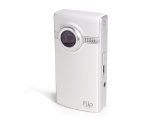 OK, here's a true story: fellow blogger friend Crystal, AKA The Thrifty Mama, asked last week on twitter for video camera recommendations.  I have been using a Flip Ultra Camera since I got one last fall and really love it.  It is super simple to use, so simple that even my four year old makes videos of himself singing.  I told her to hang on for an Amazon sale because I had seen them on sale for $59.99 sometime back in February. Today, I was checking out Amazon deals to see if there was anything good enough for me to share with you and what do I find?  The Flip Ultra Camera on sale for $59.99 (60% off!).  I immediately emailed her to make sure she got in on this deal and you know what? she is!  AND she's using her Swagbucks to pay for it.
So, if you are looking for a nice Mother's day present consider a Flip Camera, which mom wouldn't love to have this handy and easy to use gadget to capture her family's memories?  I know I would!  BTW, if you are looking for a good deal on Mother's Day presents and would like help along, leave me a comment sharing what you are looking for and I would be happy to lend a hand.  I have considered putting together a list of gift recommendations but I know the majority of my readers are moms themselves.  So, are you really looking for gift ideas or hoping that your loved ones get a clue? lol!  Maybe you can help me create a list that you can forward to those you love.
UPDATE:I missed this  about this offer: in addition to getting such a good price on the camera Amazon is also offering a $20 credit to Shutterfly when you but this camera.  That's a big added bonus!