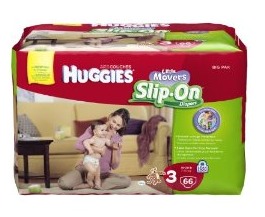 Those new Huggies Slip On diapers are now available on Amazon.  There is also a $3/1 Huggies coupon you can use to make an even better deal on them.  Makes it better when you combine with the 30% subscribe and save discount for Amazon Moms.  You can get the following deals: Huggies Little Movers Slip-On Diapers, Step 3, 26 Count (Pack of 4)
, Size 4 (92ct) for $22.51 after coupon and discount.
These are a bit higher per diaper than the regular diaper.  I have not checked them out myself but they look like Huggies Pull Ups for Babies in my opinion.
Thanks, The Thrifty Couple!