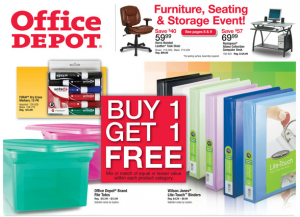 Here are the Office Depot deals for January 8, 2012 through January 14, 2012.
Rewards
20% back in Rewards when you buy $50 of HP Ink or 2 of the same HP Toners
Get 10% Back in Rewards plus $2 back when you recycle any Ink and Toner cartridge. Recycling Rewards will be granted on up to 10 cartridges per month only, when qualifying Office Depot® purchases are made within the same Reward period.
Buy 1 Get 1 Free
FORAY ® Dry Erase Markers, 12-PK
Wilson Jones® Lite-Touch™ Binders
Office Depot® Brand File Totes
On Select Really Useful Boxes®
Memorex® Earbuds Stereo
$1 Deals
ALL Sharpie® Singles Permanent Markers
Office Depot® Brand Scissors
Office Depot® Brand Staple Remover
Office Depot® Brand Composition Books
Paper Mate® InkJoy™ 100 Stick Pens 10-PK
$2 Deals
Paper Mate® InkJoy™ 300 Stick Pens 5-PK
Office Depot® Brand Medium Binder Clips
Post-it® Durable Tabs
Office Depot® Brand #10 Envelope Book, Clean Seal
$3 Deals
Sharpie® Permanent Markers ALL 5-PKs
Post-it® Arrow Flags
Scotch® Magic™ Tape In Dispensers
Paper Mate® InkJoy™ 500 RT Pens 4-PK
Sharpie® Accent® Highlighters ALL 6-PKs
$4 Deals
Sharpie® Retractable Permanent Markers ALL 3-PKs
Paper Mate® InkJoy™ 700 RT Pens 4-PK
Office Depot® Brand Jumbo Paper Clips
Hammermill® Premium Multipurpose Paper
Sharpie® Gel Highlighters 4-PK
$5 Deals
Sharpie® Accent® Retractable Highlighters 8-PK
Select Small Plastic Storage Totes
Paper Mate® InkJoy™ 300 RT Pens 24-PK
Post-it® Super Sticky Pop-Up Notes 6-PK
3M® Pop-Up Post-it® Notes Dispenser Heart
Swingline® SmartTouch™ Compact Stapler
Sharpie® Permanent Markers 12-PK
Paper Mate® InkJoy™ 550 RT Pens 8-PK
$6 Deals
Office Depot® Brand Paper Towels
$7 Deals
AT-A-GLANCE® Undated Planning Notebooks with Reference Calendars
Swingline® 3-Hole Paper Punch, 12-Sheet