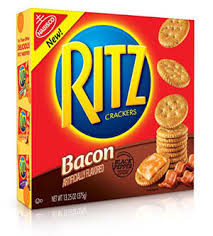 Hey, Target shoppers, you might want to print this new $0.50/1 Ritz Bacon cracker coupon for a B3G1 promo! These should be priced around $2.50 per box, and some Target stores may let you use a coupon on a free item.
Buy (3) Ritz Bacon Crackers, Get (1) Free ($7.50)
Don't miss any coupons or coupon deals! Check out all of the recent coupon related posts.