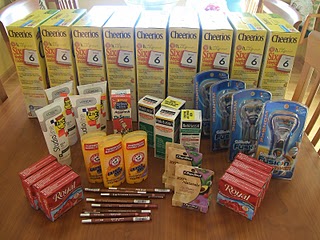 Everytime I read in other people's blogs the great deals they are getting at CVS, I can't help but feel a twinge of envy. There's not a CVS near me. I have to work with Walgreens. I can't complain very much about Walgreens because they have great clearance deals and I have learned to work their rebate system and their store coupons.
One similarity between CVS and Walgreens is the Register Rewards Program (coupons for money off your next order OYNO) which roughly resembles CVS' ECBs. However, it maybe be even better in that there are no limits as to the number of deals you can do. The problem is that you cannot use the register reward you got from one deal to buy the same product again because then you won't get another register reward. That's why you need to "roll" them or use the register rewards from one product to buy another product that's also giving register rewards and then use that register reward to buy the first product again.
This week was my first time trying to roll these register rewards. The ones available were $2 OYNO for buying Chapstick Naturals, $2 OYNO for buying Robitussin, $2 OYNO for buying 3 boxes of certain general mills cereals and $6 OYNO for purchasing a Fusion Phenom razor.
I wanted to roll these register rewards five times, or the number of coupons for Phantom Fusion Razors I had. Let's start by saying that I started doing this with a $3 RR I had from buying Sunsilk products. I got this RR basically for free since I found the products clearanced at $1 and I had coupons for $1.5 off one. My transactions were buy one robitussin and chapstick in one transaction get two $2 RRs and use these to pay for the next transaction. The next transaction was to buy the razor and use the $6 RR on buying more Robitussin and Chapstick.
I ended up spending $8.20 out of pocket to get $94.20 worth of products and I am still left with $6 in RR. My out of pocket would have been higher but yesterday I received in the mail some coupons as a random act of kindness from someone that allowed me to do the cereal RR.