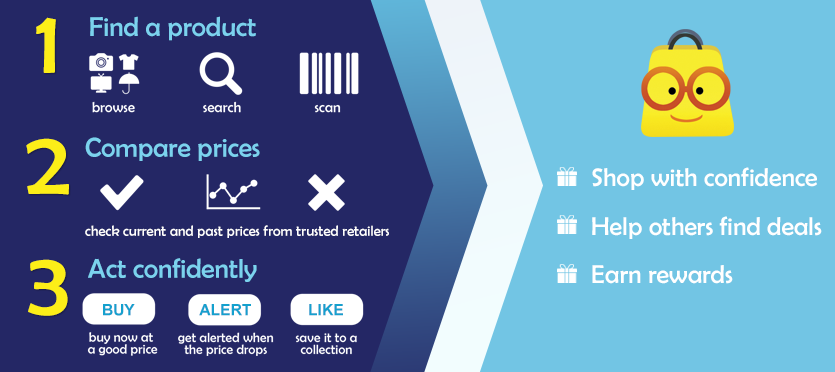 Here's an interesting little app to help you save even more!
Smoopa is a free shopping companion app that helps you shop with confidence and even earn a few rewards along the way. I just started using it, and I love it already! I really recommend trying it out if you have a smartphone.
You can use Smoopa to create your own little grocery price book right on your mobile phone. Just scan barcodes of items you regularly buy, choose a store, and enter a price. You can add scanned products to collections and put them in similar groups. For instance, I've created collections for pet, beauty, health, and grocery items so far.
Then, when you need to know if you've found a good deal on a product, you can refer back to the scanned items in your collections. If other Smoopa users have scanned the same item at another store, you'll see those prices as well.
Scanning some items even allows you to earn small rewards. I've been offered 10¢ rewards for many of the products I've scanned during my test. All you have to do to earn your reward is upload a picture of your receipt with those items on it. It's not a load of money, but it's definitely not bad if you'll be buying those items anyway!
If you share your special referral link with others, you can both earn a $2 Smoopa reward as well! Use the code COMMONSENSE2014 to earn your first $2!
You can also set up alerts, so you'll receive a message when one of your items is cheaper at an online retailer. Shipping costs are always included in online price alerts too, so you know you're always getting the best deal!
Don't forget to share your finds with others too! You can share your finds via email, text, or Bluetooth. You can even share entire collections!
Ready to get started with Smoopa and try it out for yourself? It's super simple and only takes a few moments to get set up. Here's how…
1. Start scanning. Once you're in the store, scan the barcode of an item you're considering purchasing.
2. Choose your store. If you don't see the store you're at, you can also search for it.
3. Enter the price. Enter the price of the item to check to see if it's a good price and to see if you get an offer.
4. Get rewarded! You can earn a little money when you scan and buy certain items.
If you want to test real quick without going to the store, you can also do a test scan on an item at your house. Just make sure you know which store you bought it in and the price of the item. If you're offered a reward, though, you won't be able to take it, since you'll need to upload your receipt with the date you scanned and bought the item for the price indicated in order to get the reward. It's an easy way to test the app out, though.
Give it a go, and let us know what you think! Is Smoopa something you can see yourself using regularly?
More Frugal Living Resources: