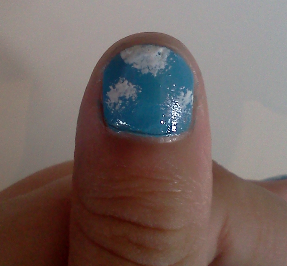 My little girl's been itching to get her hands on the new Revlon nail polish I got on clearance (with a coupon!) the other day at CVS. She's eleven, and not the girliest of girls, but she still loves her nail polish. I'm thinking she gets that from her Mama. I hope, anyway, otherwise her dad has some 'splaining to do!
The nail polish was Revlon Colorstay in Coastal Surf. It's a really pretty light sky blue color, so she decided to try some cloudy sky nail art. Fitting, since we have some pretty fluffy clouds hovering above us today.
I think her cloudy sky nail art turned out pretty cool, especially since she's only eleven and did the whole thing herself. It's definitely a fun little summer DIY manicure, which we need since there aren't many summer days left until school. This is SO simple to do, and it would also work as a neat back-to-school nail art design!
All you'll need for your cloudy sky nail art is some light blue nail polish, white nail polish, and a small piece of sponge. She used a small piece of black spongey packing material from the new TV we bought a while back. I always save this stuff, since they're great for nail art projects! You can also use a clean dish sponge, makeup sponge, or magic eraser for this.
Start your cloudy sky nail art by painting all of your nails light blue. Depending on your nail polish, you might need a couple coats. The Revlon was pretty nice to work with and it only took two thin coats to cover. Don't worry too much if it doesn't cover completely in some spots. you can cover these with the clouds later.
After the blue dries completely, you can start on the fun part of your cloudy sky nail art – painting the clouds!
Well, sponging the clouds is more like it. Place a couple small dots of white nail polish on the sponge…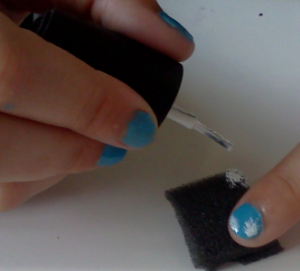 Then, just dab the white nail polish on random spots over the dry blue nail polish.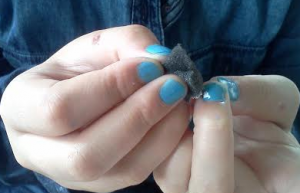 There you have it – super simple cloudy sky nail art!
You can add clouds to all of your nails or just a few. You can also add more cloud layers or dab a tiny bit of gray on the sponge with the white to give your clouds some depth.
Make sure you top off your cloudy sky nail art with a coat of clear nail polish! Along with protecting your manicure after it dries, applying the clear coat will help smudge and soften the clouds a little
She's pretty impatient, though, so she just added one layer of simple clouds. Here's the final result…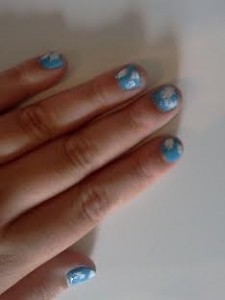 I'm thinking I like it a little better than the neon ombre rainbow thing I have going on on my nails right now…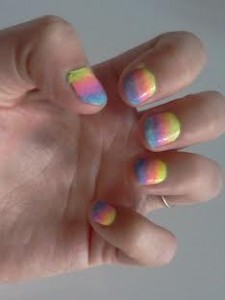 Are you more of a cloudy sky nail art kinda girl? Or a neon rainbow kinda girl?