A few weeks ago, I made it a mission to find a bra that fits! I was finally sick and tired of poor quality bras, bra bands that rode up my back, and *ahem* spillage, to name just a few of my undergarment issues. The worst part of it being nearly impossible to find a bra that fits was the amount of money that I've wasted over the years. In an effort to just have something, anything to give me a little support, I would choose a bra that was just "good enough"; unfortunately, it wouldn't take long for me to get pretty fed up with the "good enough" bra and toss it aside.
Let me tell you that my journey to finally find a bra that fits wasn't easy! At all! It was frustrating and depressing and I'm not afraid to admit that it almost actually had me in tears once or twice.
I learned a great deal during my quest to support the girls, though, and all the hassle and stress was totally worth it!
So, for all of you ladies out there looking to finally find a bra that fits, I bestow upon you these tips and tricks…
Know How a Bra Should Fit
Before you can finally find a bra that fits, you first need to know just how a bra should fit.
The straps should not dig into your shoulders, but they should also not slip and slide off your shoulders. They should fit snugly against your shoulders.
The band shouldn't dig into your side or back, and it shouldn't ride up your back. This indicates bra bands that are either too tight or too loose respectively. The back of the band should be even with the front and never higher than the underwires or bottom of the bra cups.
Breasts should fill in the cups evenly and not not bulge or spill out of the tops or sides of the cups. If this happens, it may be an indicator that you need a bigger cup size. If there are gaps between breasts and the cups, you may need a smaller cup size.
The center bottom section of the bra between the cups should lie flat against the chest or bottom of the sternum.
Get Some Measurements
Start your quest for finding ?a bra that fits by getting some measurements. There's a great tutorial on how to measure yourself and find your true bra size on FemInspire.com!
Keep in mind, though, that this tutorial won't give you a magical size that ensures that you will fit into any and all bras in this size. It's a guideline, and a good one, but it should give you a pretty good idea of where to start. You may even be extremely surprised at your true size! I know I was!
Understand Sister Sizes
Did you always think you were a 38C and were shocked to find out that you're truly a 36D? You're not alone. I myself was faced with the exact same situation, and I almost didn't want to believe it. That is, until I actually tried on a bra in my "new" size…and it fit perfectly! Even though I went up a cup size, I was extremely relieved to find not one, but several bras that actually fit me well.
So, how did you go up a cup size? Well, you may not have—not really. The difference between your band measurement and your bust measurement actually determines your cup size. A 1 inch difference is an A cup, a 2 inch difference is a B cup, a 3 inch difference is a C cup, and so on. Now I'm really going to blow your mind…
This is a simple chart showing you bra sister sizes: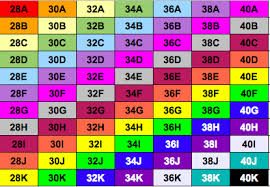 Find your current size, or the size you think you are. Let's use 38C as an example, right in the middle of the chart in the blue diagonal line. Now, follow that blue diagonal row of boxes down and to the left. The cup sizes listed in the same color diagonal rows are all the same! That means if your 38C bra cups fit well but the band is too loose, you wouldn't just switch to a 36C, since the cups would actually be smaller! Instead, you should first try a 36D.
I know, finding out that you fit into a D cup can be pretty shocking. But, after all, it's just a letter and finding a bra that actually fits is so worth it! The bra sister sizes can really be a helpful starting point if you need to find a bra that fits you a little better.
Try on Bras
Don't skip trying on bras! I know it can be weird and uncomfortable, but bras are expensive! There's no sense in spending a nice chunk of change on a bra that doesn't fit.
If you can, try on a bra at the store first. I personally love JCPenney for this. My store has a dressing room just for lingerie, and they have great sales and prices. If you're really uncomfortable trying on bras at the store, I don't blame you! You can wear a loose shirt and try on a bra over that, or you can choose a bra that you think should fit and try it on at home. Just make sure that you understand the store's return policy on lingerie.
Explore Different Styles
The style of the bra you try on can make a huge difference! For instance, there are some styles that I simply cannot wear. They just don't look or feel right. Don't be afraid to try underwires, no-wires, balconettes, demis, plunges, minimizers, half cups, full cups, convertibles, corsets—you get the idea! You may find that one particular style or design fits much better than others.
Don't Get Stuck in a Bra Rut
Finally, understand that your body is constantly changing. Just because you wore one size five years ago (or even five months ago!) doesn't mean that you wear that size now. The same is true for a particular style or brand as well. As your body changes, so do your bra needs.