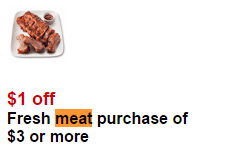 It's not every day that we see coupons for fresh meat or produce, so Target shoppers may want to take advantage of these new Target Mobile offers. Text SNACKS to 827438 for the following coupons:
– $1/$5 fresh vegetable purchase
– $1/$5 fresh fruit purchase
– $1/$3 fresh meat purchase
Going shopping? Check out all of the recent coupon deals we've found!
Get grocery coupon matchups right at your fingertips with Favado!
Sign up for FREE!

Resources You Might Like:
Coupons.com