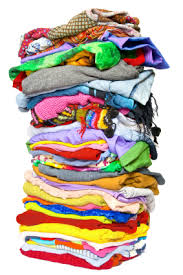 Setting up a teen clothing budget has a number of advantages. Most importantly, it can help your teen learn how to manage money and learn smart spending habits. A properly set up teen clothing budget can also help keep your teen from pestering you every time a new trend pops up.
The Girl One is quickly approaching the teen years herself, and we've put some serious thought into setting up a clothing budget for her. It took a lot of research and questions, but I think we finally figured out a solution that will work for everyone.
If you're considering setting up a teen clothing budget for your own kids, here are some questions you may want to ask yourself…
#1. Is my teen responsible enough to manage a clothing budget?
This is probably the most important question to ask yourself when setting up a teen clothing budget. Some teens are pretty decent at managing money and others…not so much. I hope that we've raised The Girl One to be financially responsible enough to manage and budget her own money, to a certain extent anyway. Therefore, I feel relatively comfortable giving her a clothing allowance. If your teen isn't responsible with money and can totally see spending $200 on a pair of jeans, they may not be ready for a clothing budget just yet.
#2. How much can we afford?
The first step to setting up a teen clothing budget is deciding how much your family can afford. This will, of course, be different for every family, but the average clothing expenditure per teen for the typical family with an annual income of $57,000 was around $700 in 2010. (Source) That breaks down to about $58 per month. Keep in mind, though, that this is nothing but a guideline, and you don't have to spend more than you can afford. Since my daughter is not much of a fashionista, for instance, she can easily get by on less.
#3. How much do they need?
Even if you can afford a teen clothing budget of $200 a month, does your teen really need such an amount? To determine how much The Girl One actually needed for her clothing budget, we took a look at how much money we spent on school clothes and additional clothes throughout the past couple of years.
#4. Who will pay for what?
When you set up a teen clothing budget, it's a good idea to figure out what you and your teen will be responsible for buying. Will she be responsible for all of her clothing? Will you buy only certain items, like outerwear and shoes? Or, will your teen's clothing budget just be used for all of the "fun" accessories and trends? We decided that we would pay for most of the essentials, like winter coats, shoes, bras, socks, and underwear. Chances are, we'll also pitch in a little extra when it comes time to buy school clothes, but she'll be responsible for most of her wardrobe.
#5. When and how will my teen's clothing budget be distributed?
There are a few ways that you can give your teen a clothing budget. For instance, you can open a bank account and deposit the money. You can also give your teen cash or a reloadable gift card. Then, you'll need to decide how often you'll top up your teen's clothing budget funds. You can give them a lump sum at the beginning of the school year, for instance, or distribute funds monthly, weekly or at the beginning of each season.
Have you set up a ten clothing allowance for your kids? Any tips for a beginner?