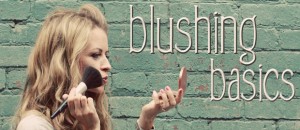 Back in August I was looking for beauty how-to videos to get some tips on how to help me use all of those drugstore make up finds.  Youtube has actually a lot of these make up tutorials but I noticed that most of them were geared towards teenagers.
While I would not consider my self "old", I will admit that I am past rocking most of the looks teenagers sport nowadays.  In a  struck of luck a few days later I received an email from Kristie over at Blushing Basics.  Kristie says that there is only one rule in makeup: If it makes you feel beautiful, you are doing it right.  However there is no reason why feeling beautiful should cost you an arm and a leg.  Here is what Kristie has to say about using your drugstore deals to achieve a flawless look:
As a freelance Makeup Artist, I often purchase makeup. One way I stay within a reasonable budget is by getting makeup deals at CVS or Walgreens, as well as ways to earn ECB's or RR that can be used towards your purchase. While drugstore makeup can be hit or miss, choosing the right products will allow you that flawless look. I have created a video tutorial highlighting some of those products, and explaining how best to apply them.
For even more tips you can consider subscribing to Kristie's Blushing Basics blog or her Youtube channel so you don't miss any of her tutorials.  i love that she has a bloopers section in the end 🙂
Win It!
Kristie has bee been generous to offer CSwM readers the chance to win the products highlighted in the video.  These products include, L'Oreal HIP Duo Eyeshadow, L'Oreal HIP Lipgloss, and L'Oreal Mascara.  Plus you will also get a $15 gift card to CVS or Walgreens so you can keep getting those beauty items for less.
To enter to win just drop me a comment sharing which is the make up item you can't leave without: mascara, lipstick, etc.
This giveaway closes on 9/20 at 3PM EST and it is open to US. residents 18 and older.  If you are reading this entry in an email or reader, CLICK HERE to enter this giveaway.