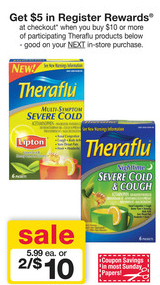 Here are a couple of things I wanted to make you aware about the eals going on this week at Walgreens:
1)  First, if you tried to do the Theraflu deal today and bought the Lipton Tea type, you probably did not get your register rewards.  It looks like that product has not been programmed to work, so the register rewards is not printing.  This is something that may be fixed soon.  The product is pictured in the ad, so hopefully this problem will be fixed soon.
2) The $1/2 UP2U gum Walgreens coupon seems like it is not scanning for some people.  This may be an issue of the coupon not being programmed to work yet.
On a good note, if you buy the W Maxi pads that are free after register rewards, you may get a coupon at checkout for 50¢ off your next purchase of W Maxi Pads.  So you could do a second transaction, use your 50¢ coupon.  Pay only $1.50 and get back a $2 register rewards.
There are tons of great deals at Walgreens this week.  Don't miss out!
Thanks, Mashup Mom!