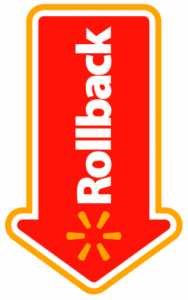 Here is the latest list of national rollback offers Walmart has available. Some of you have asked why the prices for some of the items are higher in certain states. I believe it has to do with state law in those particular states but will get a definite answer for you by next week.
Kraft Mayo 30 oz $1.97 (was $2.98)
Ballpark beef franks 16 oz $2.50 (was $2.98)
Sara Lee Whole Grain Buns 12 oz – 8pack $1.50 (was $1.97)
Doritos XXL, assorted varieties 11.5 – 12 OZ $2.48 (was $2.98)
Sweet Baby Rays BBQ Sauce 40 oz $2 (was $3.22)
Use $1/1 Sweet Baby reays coupon from 5/23 SS insert
Pay $1 each after coupon
Heinz Ketchup 40 oz $1 (was $2.42) Price in OK, WI and HI $1.18
Betty Crocker Brownie Mix 19.8-20.3oz $0.75 (was $1.44) Price in OK, WI and HI $1.17
Use $0.75/2 Betty Crocker Box Supreme Brownie Mix
Pay as little as$0.75 for two after coupon
Fancy Feast 3.0 oz $0.30 (was $0.48)
Use $1/12 Fancy Feast Elegant Medleys 4/18/2010 SS Insert (exp 7/18/2010)
Pay $2.6 for 12 after coupon
Crest w/Scope 6.2 oz $1.50 (was $2.47) Price in OK, WI and HI $2
Use $0.75/1 Crest Toothpaste 4 oz+ 5/2/2010 P&G Insert (exp 5/31/2010)
Pas as little as $0.75 each after coupon
Angel Soft 12 ct, double roll $4 (was $5.76)
Use $1/2 Angel Soft Bath Tissue 5/23/2010 RP Insert (exp 8/23/2010) or
Use $0.50/1 $0.50/1 Angel Soft Toilet Paper
Pay $3.50 for 12 rolls after coupon
$50 eGift Card with pre-order of Video Games Offer
Walmart is also introducing their new "Gamecenter" online and as part of the launch it is offering a free $50 Walmart e-gift card to customers that preorder a total of three or more of the year's most anticipated titles including Tom Clancy's Ghost Recon: Future Soldier, Assassin's Creed: Brotherhood, Fallout: New Vegas and more. This offer comes out to be a buy two get one free offer pretty much. In addition to this offer Walmart 97 cent shipping on all of their video games sold on their Gamecenter.
Disclosure: "I am a participant in the Walmart Moms program. Walmart has provided information to help create this post and has paid me to post this. Participation in this program is voluntary. All opinions expressed are my own."