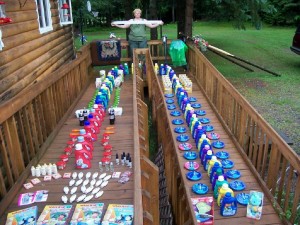 The winner of last week's Iron shopper is Kathy. Kathy took advantage of Pamida's double coupon (up to $1 face value, and no limit) event to get everything you see in the pic for a little over $7. You did AMAZING Kathy! I am really floored. You should really stop by and check Kathy's story.
The winner of email your deal for a chance to win $10 is Dani who shared the following information with me and you:
Pop Tarts has a rewards program going on.  On specially marked boxes there are codes inside to enter online.  You can only enter one code per flavor.  (the whole point is to get people to try all the flavors)  For every 5 codes entered you can redeem them for a prize.  One of the prizes is two boxes of Pop Tarts!!!  (others include music downloads, Snapfish photoprints, and movie tickets).  This program runs through September of 2011.  Pop Tarts website has all the details!
The Winner of the LeapFrog Explorer is:
Comment #519 from Jenna: I'm a fan of Leapfrog on Facebook.
The winners of the Sahale Snackspacks are:
Comment #31 Susan: I'd love to try the Pomegranate Cashew. What an intriguing flavor combination!
Comment #104 Rachel G.: I would try the Ksar blend first, I love pistachios!
Comment #199 shelly aka allysmama: facebook fan of Common Sense with Money
Congratulations to all the winners! if you didn't win now I have a couple more giveaways for this Friday and a TON more next week.