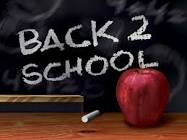 Although sales on school supplies abound, it's easy to wind up spending too much. Here are 10 tips for saving money on back to school shopping:
Have a scavenger hunt
You might be surprised by how many supplies are already in your house. Send the kids on a scavenger hunt; whoever finds the most items on the teacher's list gets a prize.  My kids brought home so much stuff at the end of the school year, I tucked the good stuff away in a closet to use again this year.
Stick to the list
On the last day of school both of my kids brought home a list of suggested school supplies for next year.  I know there is lots of cute fun school supplies out there but it's best to just stick to the list.  The good stuff always ends up getting lost or "borrowed" anyway.
Make one trip to shop at a store that price-matches
Walmart, Staples, Office Depot and Office Max all have price-match policies, meaning if you see an advertised price on a certain item, any of the three businesses will honor that figure (including instant rebates). These stores also all have great Back to School deals. So pore over the circulars, then save gas money by heading to the nearest retailer.
Swap before you shop
Get together with your friends & neighbors for a clothing swap!  Bring your good used clothing, backpacks, school supplies, books, etc. and swap them number for number – bring 5 items, leave with 5 items.  Make it a Back to School Party! Serve snacks & have some fun activities for kids.
Compare prices in the store
If you have a smartphone, scan any product's bar code and ensure  you're getting the best deal.  This has been in the news a lot in the past, some stores don't like you to do this, but you have the right to do so.
Go green
According to the Sierra Club, American families spend, on average, $85 per year on disposable plastic baggies. Show your children the value of a waste-free lunch—and save money—by investing in reusable snack and sandwich bags.  There are some super cute ones here
Calculate the cost
Think ahead to when your children will need pricey upgrades, like a graphing calculator or laptop. If your kids are responsible with their supplies, consider skipping the cheaper model and purchasing one they can use for several years.
Reuse basics
Why buy new every year? Opt for plastic folders, dividers and binders instead of flimsy cardboard ones. If last year's spiral notebooks aren't used up, tear out the old pages and decorate a new cover.  Redecorating notebooks & folders can be a fun project for days when it's just too hot to go outside.
Get the warranty
If you're in the market for a new backpack or jacket, buy one that comes with a lifetime warranty.  We have had excellent results with Swiss Army backpacks, my husband bought one over 10 years ago, they have replaced it twice with no questions asked.   L.L.Bean, Lands' End and REI are among some other companies that will fix or replace worn merchandise for the entire life of a product.
We posted these great tips on clothes shopping just a couple of days ago!