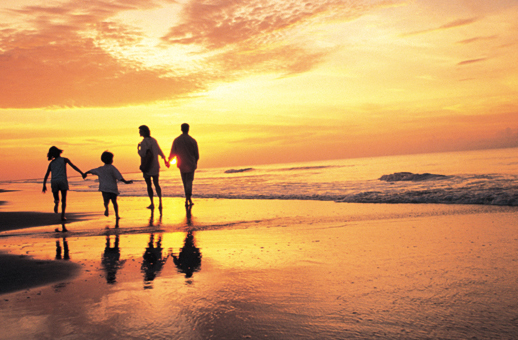 As a stay at home mom, you're probably ready to go on a vacation at all times, because you spend so much time in the house. Unfortunately, vacations can be pretty expensive, but that doesn't mean that you can't go on a vacation at all. In fact, you just have to know which destinations are the most affordable. As a matter of fact, right now is the perfect time to go on a vacation, because the economy isn't doing so great and not as many people can afford to go on vacations anymore. Therefore, a lot of companies out there are offering incentives for you to go on a vacation. For instance, you may be offered a free room upgrade, a free add-on, a free pass somewhere, a free night stay, etc…
Below is a list of the most affordable places you can visit for a family vacation. Even though they're affordable doesn't mean they lack quality. Actually, many of these places are absolutely breathtaking.
Myrtle Beach, South Carolina
This place has it all. Everything you could ever want to do is in Myrtle Beach, South Carolina. Want to soak up some sun on the beach? Want to visit an amusement park? Want to take the kids to the water park? Maybe you want to see the Ripley's Aquarium? Either way, you'll be able to do this and a lot more at Myrtle Beach. Oh, and did I mention that Myrtle Beach is known as being the #1 destination in the world for golf enthusiasts? There are over 100 public golf courses in Myrtle Beach; two of which are on the ocean. These two golf hot spots are the Dunes and Tidewater, which were in Myrtle Beach before the huge golf explosion, so they're the classic courses that you want to visit.
Old Orchard Beach, Maine
If you go to Old Orchard Beach, you'll be able to lay on the beach all day long in the warm sun. After you're finished lying on the beach, you could always visit Palace Playland, which is an absolutely amazing theme park. It's a more old-fashioned theme park on the boardwalk and it's much cheaper than any other amusement parks in the area.
Las Vegas, Nevada
How do you feel about taking the family out to Vegas? Granted, you probably never thought about taking your kids to a place known as "Sin City," but there's a lot more to Vegas than meets the eye. A lot of families go to Vegas and love the experience, because there's actually a lot to do that's family-friendly. Also, you can stay at 5-star Hotels/Motels for practically 3-star Hotel/Motel prices. Vegas is one of the most inexpensive places you could ever visit. For instance, I know people that have stayed in the Trump International Hotel for as little as $89 per night and that also includes $50 worth of spa credit. Now, tell me that wouldn't be amazing for a stay at home mom.
What are some budget-friendly family vacation destinations you know about? Leave your comment below to let us know.