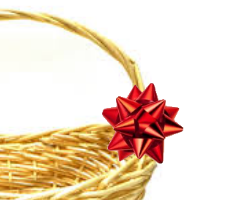 Gift baskets are nice during the holidays, but the commercial baskets are often very expensive. If you make gift baskets, however, you have the chance to give a personalized useful gift and save a bit of money in the process.
You can make gift baskets for nearly everyone on your list, regardless of their age or relationship to you. Here are some different gift basket ideas…
The Foodie Gift Basket
To make gift baskets for food lovers in your life, consider using useful kitchen canisters or bowls to hold everything instead of an actual basket. Look for metal flour canisters, mixing bowls, or something similar at dollar stores. Fill the canister with items like homemade treats, kitchen gadgets, towels, and recipes.
The Coffee and Tea Lover's Gift Basket
Any coffee lover on your list will love a coffee gift basket. When you make gift baskets for coffee and tea lovers, fill a basket with flavored or gourmet coffee or tea bags, a mug, chocolate dipped spoons, and flavored creamers. When you make gift baskets for tea lovers, using a tea pot instead of a basket will give it a little extra flair.
The Green Thumb Gift Basket
For the gardener in your life, try the Green Thumb gift basket. Fill a terra cotta pot or watering can with different gardening supplies. Include items like seeds, gardening gloves, and small gardening tools.
The "Pamper Me" Gift Basket
Everyone needs to pamper themselves from time to time, making the "Pamper Me" gift basket a great idea for just about everyone. Include items like aromatherapy candles, bubble bath, bath salts, bath fizzies, and loofahs.
The Fisherman's Gift Basket
If you have a fisherman on your list, consider making a fisherman's gift basket. Fill a tackle box or fisherman's hat with items like lures, extra hooks, spools of line, bobbers, a pocket poncho, a floating keychain, an insulated travel cup, and some tasty snacks for when they're out on the lake.
The Knitting Gift Basket
You can make gift baskets for people who enjoy knitting or crocheting very easily. Use a big basket with a handle, a large purse, or knitting bag for the basket. Yarn will be the most obvious addition to a knitting gift basket, but you can also include items like knitting needles, crochet hooks, small scissors, patterns, and possibly a gift card to a local craft store.
The Artsy Gift Basket
To make gift baskets for artistic and creative types, look for a container that is a little unusual or artistic. Maybe try your hand at decorating your own sturdy box that can be used to store art supplies. The items in the basket will depend on the medium the artistic recipient specializes in. Pencils for a drawer, for instance, and paints for a painter. You might also want to include items like a sketchbook, pencil sharpeners, and paint brush holders.
The Movie Buff Gift Basket
To make gift baskets for movie buffs, first start with large containers to hold popcorn. You can use large popcorn tubs if you can find them, but you can also use metal or plastic bowls. Include items like popcorn, inexpensive movies, gift cards for movie rentals, and 3D glasses.
Extra Tips to Make Gift Baskets
When giving a homemade gift baskets, presentation is extremely important. Invest in some tissue paper or pretty fabric to surround your gifts. Also, arrange your gifts in the container as attractively as possible, rather than simply tossing them in.
You also don't need to spend a bundle when you make gift baskets. To help you stay within your budget, shop at dollar stores for the small gifts in your baskets. Thrift stores are especially great for finding inexpensive and attractive baskets.
Don't forget to check out the rest of my homemade gift ideas that won't break the bank.