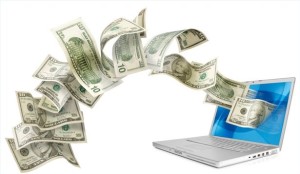 Spring is almost among us and then summer will be here shortly after. If you're like me, you like to go on vacations in the summer months and you also like to enjoy some activities outside of your own home. Therefore, you're naturally going to spend a little more during these months for entertainment purposes.  In other words, you could end up spending more than you planned, so every extra bit of money you make can really help. Below, I'm going to give you some tips on how to make money online, so you have some extra cash stored for when summer is here.
#1. Take Surveys Online for Money
Taking surveys online is a great way to make some extra cash, because it doesn't take any sort of talent or any sort of expertise to take surveys online. The only requirement is internet and knowing how to use a computer. All you have to do is sit around, answer questions and earn some extra money, gift cards, prizes, etc… You could even sit on the couch after you've put the children to bed and easily complete these surveys. Your average survey usually takes anywhere between 10-15 minutes to complete and pay can range anywhere between $1 – $15, so there's definitely some money to be made by doing surveys.
Taking surveys may not sound like the most entertaining way to make money, but a lot of people enjoy taking them and making extra cash in their spare time. Sometimes, companies will even send people free products to test out for survey purposes. So, surveys are an easy way to make money and get your hands on some free products.
#2. Swag Bucks
Swag Bucks is a very easy way to earn some cash online and it's also one of my personal favorites. With Swag Bucks, you can earn extra cash by doing the things you already do online. For instance, you can earn Swag Bucks by simply using a search engine, printing out some coupons, watching certain videos, making online purchases, etc.. After you've earned enough Swag Bucks, you can redeem them in the form of gift cards or you can have money sent straight to your paypal account.
I've been using Swag Bucks for a long time now and I personally think one of the easiest ways to earn cash with them is by using Swag Bucks as your search engine, rather than Google, Yahoo or Bing. If you're on the internet a decent bit, you should earn enough Swag Bucks to withdrawal your earning every week.
#3. Enter Giveaways and Sweepstakes
There are plenty of online sweepstakes and giveaways going on out there that you can enter. There's no easier way to earn cash and prizes than entering a giveaway. Also, it only takes a few minutes to enter one. Companies love promoting their brand via sweepstakes and giveaways that you won't have a problem finding any to enter and you'll also earn some cash and get some cool prizes.