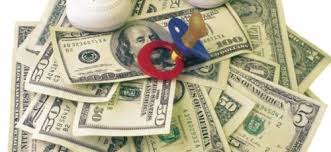 Expecting a baby is exciting! As soon as new parents find out that they'll be blessed with a little darling soon, the temptation to run out and buy all sorts of baby goodies can be overwhelming. I'm not even expecting, but I still get a little sidetracked in the baby aisles! They're so FUN!
STOP!
Babies are fun, and you want them to have everything they need, but at what expense? Chances are, there are more than just a couple things on your list of baby items that you may not need or that you may be able to save big bucks on!
Here are some of the most common items that can bust your baby budget if you aren't careful…
Furniture
I'll bet your Pinterest board is just burning up with all of the fun nursery ideas! It's great to have ideas, but before heading out for a shopping spree, make sure there's room in the baby budget. If money is tight, you can most likely get away with the bare essentials. For instance, changing tables are nice, but you may not really need one. A crib may not even be necessary at first, especially if your new baby will be sleeping in a bassinet in your room for the first few months.
Look for furniture that serves double duty to get more bang for your buck. Also take a look in thrift stores or at yard sales for quality pieces of used furniture for next to nothing. Friends and family members with older children may also have furniture that you can have or borrow.
Clothes
Baby clothes are adorable! I know you're probably tempted to pick up all off those fun little baby outfits, but this is a good way to really bust your baby budget. Keep in mind that babies grow quickly. This means that the new clothes that you buy Baby will be ready for the thrift store in just a few months—if the spit up and food stains don't deep six them after a day.
The good news is that one of the easiest places you can save on your baby budget is clothing! Hit clearance racks for super cheap new clothes, and thrift stores for gently used clothing. If there's a possibility of another baby in the future, consider buying mostly unisex colors so your next bundle of joy can use the hand-me-downs.
Diapers
Diapers are a necessary expense on your baby budget, but it can be easy to spend more than you intend to. Diapers can range from reasonably priced store brands to expensive name brands. The cheapest diapers may seem to make sense, but this isn't always the case. Some cheap diapers are just that—CHEAP! They can be leaky, stinky, and just plain crappy. Cheap diapers can even cost you more than the more expensive name brands, simply because you need to change them more often.
Do a little experimenting with diapers. Try the different cheap brands, but keep in mind that you can usually get some nice deals on name brand diapers each week by using coupons during sales. When you find a great deal on diapers, don't be afraid to stock up. Just make sure you keep your baby's current size and possible growth into account.
Food
Baby formula can be super expensive, but there's a free alternative—breast milk! Nursing your little one is not only healthier, but it can also save you boatloads of money. If you won't be nursing, you can still save money on formula by using coupons and trying the cheaper store brand versions of formula. Low-income families may even be able to get help from programs like WIC.
Parents can also spend a small fortune on small jars of baby food as well. Instead, consider making up some homemade baby food with a small food processor. This allows you to have a little more control over your little one's diet, and you can introduce her to more foods.
How did you keep your own baby budget in check?