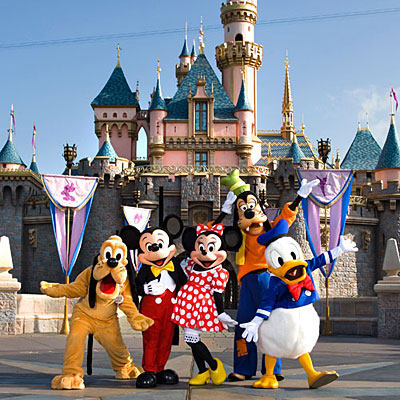 Disneyland is known as being the most magical place on Earth and it's a place that every kid wants to go and every parent wants to take their kids there. Unfortunately, Disneyland is extremely expensive, so it can put a major dent in anyone's budget. The entertainment there is truly magical and it's a place that I'm proud to say I've been able to take my children, but it certainly took some planning ahead, because it's so expensive. Every kid deserves to go to Disneyland, so I'm going to give you some tips on how you can save money on a Disneyland vacation. That way, you'll hopefully be able to take your kids on the vacation of a lifetime and it won't leave you with an empty bank account by the time the trip is over.
#1. Go to Disneyland During the Off Season.
Going in the off season is a great way to save some cash and you will also be able to get around the park much easier. Disneyland is mostly packed on holidays and during the middle of the summer. In other words, you're going to be hot, you're going to be shoulder to shoulder with people, everything is more expensive, the lines are longer, etc… It's highly advisable that you go in the off season as you'll have a much better experience and it won't cost you as much.
#2. Eat at the Buffets
There are plenty of dining options at Disneyland and some are more expensive than others. I would suggest eating at the buffets, so you get more out of your money. If you want to see what is on the menu at Disneyland of Disney World, you can head on over to their official websites where they list their menus.
#3. Stay at the Disney Resort
A lot of people think they're being smart when they decide to stay at a motel in the area, rather than staying at the Disney resort. Sure, the motel you found around the area is cheaper, but it's going to cost you more money in the grand scheme of things. The Disney resort costs more, there's no debating that, but you're going to get more out of your money by staying at the Disney resort. For instance, by staying at the resort you will be given complimentary shuttle service all around the theme parks, water parks and the Disney Downtown area, as well.
By staying at the Disney resort, you won't have to drive your own vehicle around and waste gas. Also, you won't have to pay for parking. Plus, it's just much more convenient. There are also some other perks to staying at the resort that you can check out on the official Disneyland or Disney World website.
#4. Ask for a Better Deal
Never be ashamed to ask Disney if they're having any special rates or deals going on at the moment. Disney has a lot of different deals and packages going on, but they rarely advertise the deals, so not many people know about them. So, just give them a call and ask about the current deals, specials, offers and packages they have. Chances are, they'll have some sort of deals going on.