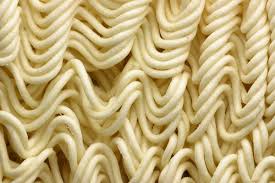 Ramen noodles are one of the cheapest and easiest foods available in the supermarket aisles today. Ramen noodles are so cheap and easy to make that they've made a name for themselves as the go-to food for college students. That doesn't mean that ramen noodles are only for college students, though.
Families on a tight budget can also incorporate ramen noodles into their daily meals and save a great deal of money. I know what you're thinking – ramen noodles are super unhealthy and just plain nasty. However, this doesn't have to be the case.
While it's true that they aren't the healthiest food in world, most of the unhealthy junk is contained in the little foil packet. You can use as much or as little of this seasoning mix to control the taste and healthiness of your dish. Also, Ramen noodles don't necessarily have to be nasty. It's all in how they're prepared.
Here are a few ways that you can dress up ramen noodles and save a few bucks on groceries.
1. Add Vegetables
Stir-fry from ramen noodles is simple and quick to make. First, you'll need to cook the ramen noodles about halfway. As the noodles are cooking, stir-fry some vegetables. You can use just about any types of vegetables you want, including onions, carrots, snow peas, peppers, broccoli, and broccoli. When the noodles are half cooked, drain them and toss them in the pan with the vegetables. You can add all or some of the seasoning packet or a few shakes of soy sauce.
2. Add Meat, Poultry, or Seafood
Another way to dress up ramen noodles is by adding beef, chicken, or shrimp. Thinly sliced steak is good when added to beef flavored ramen noodles, and you can also make a beef and broccoli dish with beef ramen noodles. If you slice beef thinly against the grain, it will also be tender, so you can use cheaper cuts of meat for this. Shrimp and chicken can also be added to drained ramen noodles that have been sprinkled with a little seasoning mix. You can also make a quick chicken or shrimp alfredo with ramen noodles.
3. Make a Creamy Noodle Dish
Add a little milk or cream and some butter to cooked and drained chicken ramen noodles to make a creamy chicken noodle side dish. You can add a flour or cornstarch slurry to thicken the dish up if you want. Make a beef stroganoff dish by adding some thinly sliced cooked beef, mushrooms, and a little sour cream to drained beef ramen noodles.
4. Make a Salad
Ramen noodles can also be used to make a pretty nifty salad. Partially cook a package of ramen noodles and drain them. Add a little butter and some of the seasoning. Mix the warm ramen noodles with a lettuce mixture and chopped vegetables, and drizzle with salad dressing. Sounds weird, but it's actually quite good!
5. Make a Casserole
Use partially cooked ramen noodels to make a ramen noodle casserole. Add cheese, chicken, and broccoli, cover with a butter and breadcrumb mixture, and bake until the top is golden brown. You can also mix partially cooked noodles to a skillet with cooked taco meat and a can of drained tomatoes. Top with cheese and crushed tortilla chips for a Tex-Mex ramen noodle dish.
6. Make a Burger
This one just blows my mind! Did you know you could make a burger bun from ramen noodles? Yeah – me neither! Apparently, you need to boil a package of the noodles for a few minutes, drain them, and mix with a scrambled egg. Split the mixture in half into two bowls, cover with plastic wrap, and refrigerate for an hour. Invert the bowl into a hot pan and leave the bowl on top for a few minutes, remove the bowl, and flip the ramen bun. Weird, but I just might have to try this one.
Do you use ramen noodles, or are they a no-no in your house?